SAPPHIRE is a force to be reckoned with when it comes to their Toxic-branded video cards, and it looks as though the SAPPHIRE HD 7970 Toxic is going to be no different, and maybe even step it up a bit when it comes to smashing the ball out of the park. The card comes with a resolution-busting 6GB of memory in 24 GDDR5 memory chips, 12 on each side.
In order to power the factory-overclocked "Tahiti" GPU from AMD, and 24 GDDR5 7 GT/s memory that takes some seriously strong VRM. Sapphire decided to implement an 8+3 phase power supply, which uses solid-state chokes, that don't whine under stress, as well as International Rectifier DirectFETs. The FRM draws power from two 8-pin PCIe connectors. Sapphire went a step further by implementing LEDs for each of the 8 vGPU phases, which gives a real-time indication of their individual loading. These LEDs can be seen through a window on top of the card, as pictured below.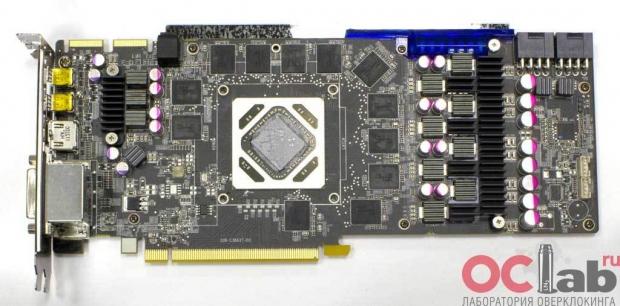 The cooler is built from a large aluminum fin heatsink which draws heat from teh GPU and memory chips on the obverse side of the PCB. The FETs on the obverse side are cooled by additional heatsinks. From here, we have the memory chips on the reverse side of the PCB cooled by a metal back-plate. The heatsink makes use of four 8mm-thick nickel-plated copper heat pipes, as well as a vapor-chamber plate. This is ventilated by two 80mm fans.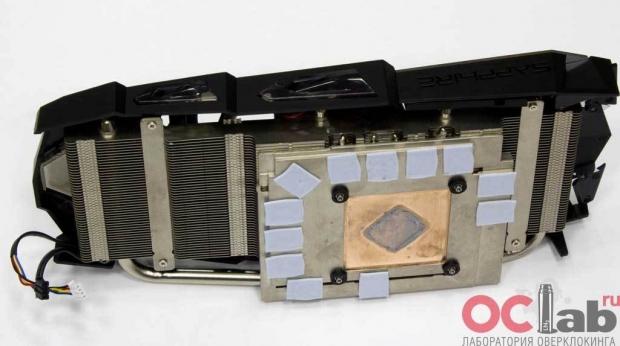 Let's talk numbers. The SAPPHIRE HD 7970 Toxis has out of the box clock speeds of 1150MHz on the Core, 1500MHz (6GHz GDDR5 effective) on the memory. It also includes a dual-BIOS, with a failsafe BIOS. OCLab overclocked the card with its stock cooler and reached 1300MHz on the Core, and 1900MHz on the memory. We should see some more results once other people get their hands on it, and as soon as Shane has his paws on it, you should see a review from us, too.