We all know Apple TV is coming, but what would it end up like? Barclay's analyst, Anthony DiClemente thinks it could be a cool piece of hardware, that he images would look like a "large-scale iPad", that would work with the Internet through Apple's existing quite of iOS apps and services.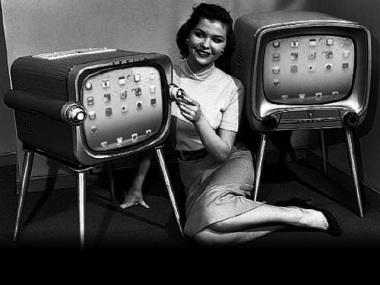 DiClemente doesn't think Apple CEO, Tim Cook will be able to break the traditional cable TV bundle, which means when you watch traditional TV, it's not going to look any different to what you're looking at now. But, when you're talking about a TV with access to Apple's iTunes Store, things start getting interesting, and it would really open up people's imaginations to what the future of your living room will be like in 5, 10 or 20 years time.
DiClemente is a media analyst, and not a hardware guy, so his report focuses on the reasons it will be hard for not just Apple, but other companies, to really mix up the programming/distribution business. Personally, I don't think it would take much, because all it takes is a player like Apple to hit the market with a product everyone wants, and then the big businesses will start listening and changing things up, well, hopefully.
He has some speculation on the Apple TV, below:
He doesn't think it's coming in 2012.

He thinks it will use Apple's Siri voice control as a "groundbreaking interface."

He imagines it could sell for $1,500.

He thinks it could be "so much more than a TV - including gaming, video communication, content delivery, apps, computing and all the capabilities of the current Apple TV."