Over the next five years, IBM is set to work with the Netherland's National Institute of Radio Astronomy (ASTRON) where tehy hope to develop a low-powered, exascale supercomputer. Not impressed yet? Hold onto your chair, dear reader. According to IBM, this supercomputer would be millions of times faster than today's high-end desktop PCs, and possibly thousands of times faster than even the most recent super computers.
The exascale computer would be used to analyze data collected by SKA (square-kilometer array), which is a cutting-edge radio telescope set to become the largest and most sensitive of its kind ever built. ASTRON hopes to have the telescope ready by 2024. While it's still a fair way off, the excitement will only build over time.
Now, this is where you don your math hat, and get ready to have your eyes widen a little: to compare to what we know, and use now, exascale refers to a computing device that is just incredibly fast, where the number of floating-point operations per second it can perform isn't measured by gigaflops or even petaflops, but exaflops. Today's highest-end desktop CPUs rank up around 20 gigaflops, not that impressive in terms of scale to this beast.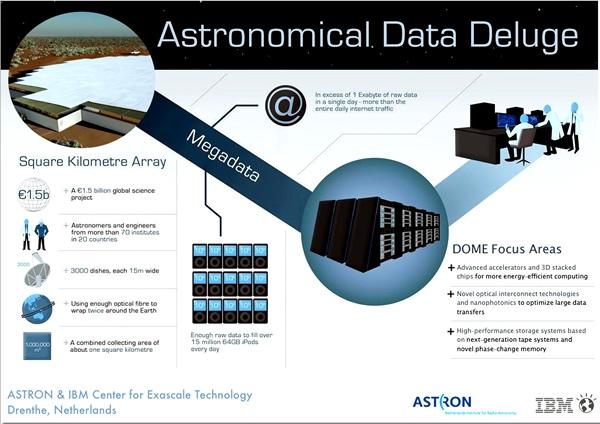 Even if we talk of parallel computing with GPUs, FLOPS of the peta-kind are just unheard of outside the insaneness that is supercomputing. This new IBM-built supercomputer cluster will enjoy the task of collecting, storing and analyzing exabytes worth of astronomical data on a daily basis. This means for each day it operates, the amount of data collected is expected to exceed the sum of raw data transferred through the entire Internet, globally. Still not impressed? Under ideal conditions, this new supercomputer could transfer twice as much as the entire Internet, globally. Wow, wow, and again, wow.
Some facts on the new IBM supercomputer:
SKA will need to store up to 1,500 petabytes of data per year.

The computer will need to manipulate bewteen 1 to 3 exabytes of data per day.

64-bit architecture currently has an address limit of 18 exabytes.

SKA will survey over 3000km of sky at a time, nearly the width of the continental U.S.