Don't be expecting any price cuts on the HD 7970 anytime soon
According to industry sources, don't be expecting a price drop on the HD7970 anytime soon.
Published Thu, Mar 29 2012 3:34 PM CDT
|
Updated Tue, Nov 3 2020 12:29 PM CST
With the release of the kick-ass GTX 680 at a competitive price point, many thought, including me, that the HD 7970 would undergo a price cut to be more competitive. Let's be realistic: the GTX 680 beats the HD 7970 in almost every single benchmark, including being more efficient, at a lower price point. It's pretty hard to justify charging $50 more for a worse card.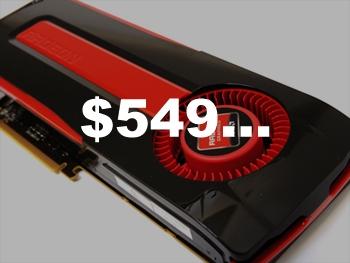 Or is it? Again, let's be realistic. The GTX 680 can hardly be purchased anywhere and when it is in stock, it's bought out in a matter of hours. This was something the HD 7970 had trouble with as well up until a few weeks before the 680 launch. Then it suddenly got plenty of stock. So while the 680 can hardly be purchased anywhere, the HD 7970 has the luxury of being widely available.
So, there's a few conclusions that can be drawn from this. First, AMD thought Nvidia would continue their practice of pricing higher performing cards at a premium. Second, it could be that AMD can't afford to drop the price on the 7970. The silicon is a pretty complex chip, and as such is expensive.
Additionally, the current pricing scheme places each series $100 apart. A $50 drop in the 7970 pricing would require a similar drop across the board. As of yet, Nvidia doesn't have any competing chips at the lower mainstream price level where the majority of sales are. So AMD can either sacrifice the HD 7970 or they can sacrifice the rest of the line up to save the HD 7970.
As it stands, I wouldn't expect any price drops on the HD 7970 until Nvidia starts pressing the lower market where AMD will be making most of its money.
Related Tags