Exclusive hands-on with Gainward GeForce GTX 680 Phantom video card
It's not passively cooled as much as it looks - probably going to be quiet.

Published Tue, Mar 27 2012 7:06 AM CDT
|
Updated Tue, Nov 3 2020 12:29 PM CST
Earlier on today we met up with the folks from Palit and Gainward at their Taipei headquarters to discuss all things NVIDIA and GeForce since they now (finally) have a new GPU model to pimp and sell, that of course being the GeForce GTX 680.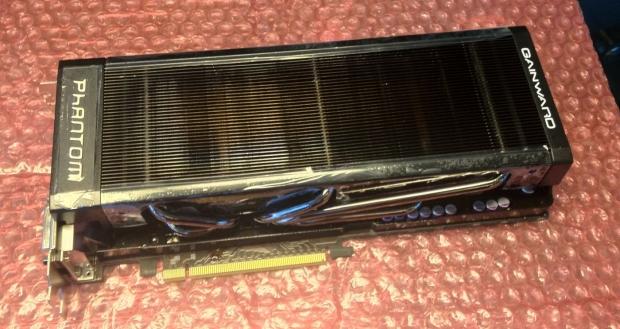 During our meeting someone (we never actually got introduced) walked into our meeting and dropped off a second video card, besides the first Palit one we were looking about - but that Palit model needs to stay quiet a little longer yet, we may have already said too much.
Anyway, back on topic - what the man dropped off was a Gainward GTX 680 Phantom video card. On first inspection I asked if it was passively cooled, quickly realizing that would be near on impossible due to the fact that the GTX 680 is a high-end GPU part and generates a lot of heat. On closer inspection we saw that the Phantom actually includes two cooling fans built inside or at least just below the massive radiator / heatpipe design which covers the full top surface of the video card.
[img]2[/img]
On the side of the card we counted five heatpipes and that might suggest that Gainward are going for low noise levels with this video card while still maintaining higher than NVIDIA reference card level gaming performance levels. We'll have to find out when we do our full review later on, but we are not exactly sure when that will be as Gainward are still applying the finishing touches to the Phantom, but judging by what we've seen so far, we can't wait to get it into our labs and put it through its paces.
Bring it on, Gainward! There are many more shots of the video card in the gallery below.
Related Tags