Mobile phones are more important to women than boyfriends
A new study finds that women treasure their mobile phones higher than boyfriends.
Published Tue, Mar 20 2012 9:05 AM CDT
|
Updated Tue, Nov 3 2020 12:29 PM CST
Sorry men, but someone had to break it to you. I'm just happy it was me. We knew it was coming, we knew someone would eventually have a study which confirmed what many of us already were thinking. No? Not sure what I'm talking about? Let's put it in simple terms: A new study shows that four out of ten women would be devastated if they lost their phone. A third of women admitted they could live happily without a man.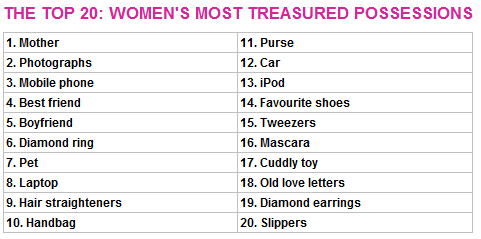 As you can see in the above list, a woman's most treasured possession is her mother, followed by photographs, and then her mobile phone. Even her best friend comes in above a boyfriend. Men, we are 5th on her list, and in my opinion, I can't believe we're not farther down. I can think of several things that women seem to like more then men. Cars and shoes come to mind and they only placed 12th and 14th respectively.
This comes from a new study ran by online pawnbroker Borro.com. Mothers are understandable to come before a boyfriend, as blood is thicker than water as they say. The thing I find curious is that there is not a mention of a husband on the list. So either husbands aren't treasured at all, or they got grouped into the 'boyfriend' category. Either way, I'm amazed that we got outclassed by mobile phones and photos. Especially if the photos are of the girl with her boyfriend. Ironic, don't you think?
Related Tags