Microsoft show off advances in touch screens, want to reduce input lag from 100ms to 1ms
Microsoft Applied Sciences Group show off 1ms input lag on touch screen, just a little better than t.

Published Tue, Mar 13 2012 11:24 PM CDT
|
Updated Tue, Nov 3 2020 12:29 PM CST
Microsoft's Applied Sciences Group have released a video showing off their work on reducing input lag for touch screens. Microsoft have said that most touch-sensitive devices have a response lag somewhere between 50 and 100ms. But, their new screen technology reduces this to not just 25, or 10, or 5, but 1ms.
For larger touch-based surfaces like Microsoft's Surface, input lag can be a huge problem. The input delay becomes especially perceptible when drawing or quickly moving objects on the screen with your fingers. This issue has prompted Microsoft engineers to look into other ways of improving touch screen input lag deficiency. Microsoft haven't revealed how the technology actually works, but the video below demonstrates how their research may greatly improve the touch-based user experience.
Assistant director at Microsoft Applied Sciences, Paul Dietz, compares most flavors of input lag from 100ms, 50ms, 10ms and 1ms devices, by dragging an object around with a single finger. Between 100ms and 10ms the difference is quite substantial, where from 10ms to 1ms, is big, but not as big as the jump from 100ms to 10ms. You can definitely "feel" how the 1ms looks/feels right when being compared to the higher input lags of 50, 100ms.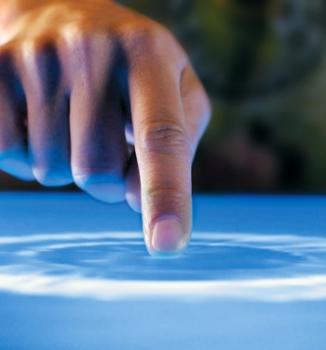 Synaptics have also shown off their own version of a low-latency touch screen device at the recent Mobile World Congress, as well as last years MWC. Most people think the stylus is dead, but input lag really hurts these devices, but a reduction to 1ms might bring the stylus back. Is this what Microsoft want with their research into 1ms? Do they want a Windows 8-based stylus-capable device to arrive late this year or sometime in 2013?
Related Tags