The US is hungry for blood over the MegaUpload debacle, and now US prosecutors have filed papers that seek the extradition of Kim Dotcom, founder of MegaUpload, along with three colleagues, who are charged in the US with allegedly running a criminal enterprise responsible for online piracy of copyrighted goods.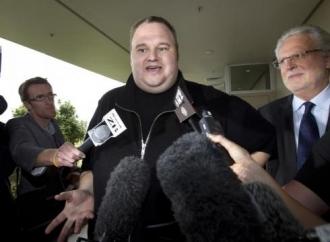 The extradition papers jumped over the pond on Friday and found themselves on the desk of the North Shore District Court in Auckland, New Zealand, confirmed by the country's Ministry of Justice's spokeswoman said on Monday, according to PCWorld. It was decided on Wednesday by the High Court of New Zealand, Auckland Registry that Dotcom could stay free on bail, after government prosecutors acting on behalf of US authorities appealed a February 22 decision of the District Court to grant Dotcom bail.
The judge has said that he understands the extradition hearing won't take place until August, and also observed that for Dotcom "to be incarcerated for another six months awaiting the extradition hearing, the risk of flight has to be a real one". Dotcom has an electronic monitoring device monitoring his every move, which was one of his bail conditions, which has reduced the risk of flight, he said. He added:
It essentially puts a perimeter around Mr. Dotcom's home and if he breaches the perimeter then the authorities will know about it very shortly.