Originally, this was going to be my "Download of the Day", but I figure that this would only be applicable to a small percentage of users compared to what has now become Download of the Day. Think of this as "Download of the Day 1.5". TRIM Enabler 2.0 for OS X Lion is now available.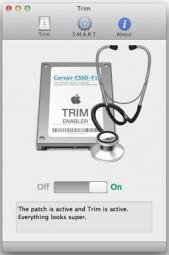 What makes this release special? Well, usually TRIM is reserved on Lion for Apple SSDs. Non-Apple SSDs don't get the TRIM goodness within OS X Lion. Older TRIM enablers required Terminal usage, and knowledge on how to use it. Oskar "Cindori" Groth developed an app called TRIM Enabler. The app has hit version 2.0 and is now compatible with OS X Lion. Version 1.x worked in Lion, but included an old kext from Snow Leopard that caused worse performance for some users.
TRIM Enabler 2.0 patches said kext file for you and repairs permissions, something that would normally require the user to do manually through a Terminal-based method. TRIM Enabler also supports S.M.A.R.T. monitoring on some SSDs, allowing the user to see lifetime reads, and the amount of retired blocks, for example.
As with apps, or drivers like this, caution is required. I myself have a 2011 MacBook Pro with an non-Apple SSD in it and won't run this program. My SSD feels fast enough and hasn't slowed down. If you do grab it, please comment and let us know how you went.
TRIM Enabler 2.0 can be downloaded, here.