Apple announce iBooks 2, set to make books magical again
iBooks 2 has been announced, is a "new textbook experience for the iPad"

Published Fri, Jan 20 2012 4:21 AM CST
|
Updated Tue, Nov 3 2020 12:29 PM CST
Apple SVP Paul Schiller took the stage to unveil something Apple has been cooking up for a while, and a long-rumored "education-centric announcement", which has morphed into iBook 2, where Schiller calls it a "new textbook experience for the iPad".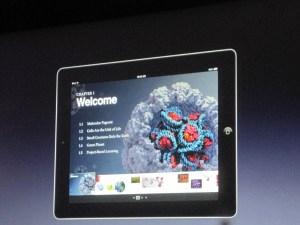 Roger Rosner, Apple's VP of productivity software has explained how it will work. Textbooks appear on the shelf, you then tap to launch. The books occupy the full screen and can be paired with embedded video content and introductory movies. Multi-touch rears its head and can be used to navigate through the textbook pages and can manipulate integrated 3D models for biology books, for example.
Rotating books allows users to focus on text, and there are built-in, linked glossaries and tablets of content to make navigation simple and accessible, as well as everything is searchable. iBooks 2 also includes highlighting, note-taking and interactive Q&A sections at the end of each chapter, which also provide immediate feedback: no more hunting for a key in a separate book or appendix to see how you did it.
Apple seem to have taken the best ideas from other e-book implementations, software and ideas, and made them magical and revolutionary and called it iBooks 2. There is a dedicated iBookstore category now, where you'll find free samples you can try out before purchasing. The app itself is free, and will be made available any hour now through the App Store.
Text books will be priced at $14.99 or less, and is, at least at first, aimed at the high school market. Apple's current partners are Pearson, McGraw-Hill and Houghton Mifflin Harcourt, where together, they control 90-percent of the textbooks available, according to Schiller.
Related Tags