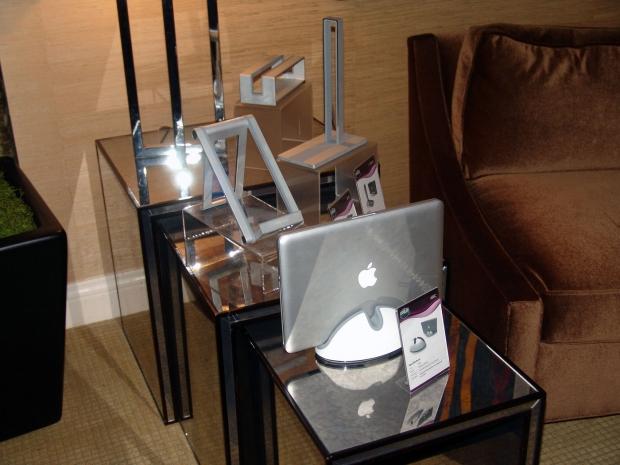 CES 2012 - For any respectable company to overlook the potential of the iPad and iPhone market, it's just silly, as there are literally tons of users out there. Cooler Master jumped on board and is offering various stands for both notebooks and tablets. In this image you will see the ARC holding the MAC notebook, the JAS and L Stand behind it, and an un-named simpler design in the back. These aluminum units will only be available in silver to go along with the Apple products and offer grey rubber padding to keep from damaging your devices.
Next in line is the Wave Stand which is geared for iPads. This is a fold able unit that allows for easy stashing in a bag while on the go. Once you are at a table or any flat surface, you pull out the Wave, and unfold the middle of it to allow you to rest the iPad on it for easier use of the device. Again this unit is all aluminum, but has grip with the large black rubber pas that support the iPad on the legs as well as the pad that rests against the back of the device. The nice feature with this device is that it isn't solely intended to the Apple crowd, but will work with any tablet on the market.
Ever wanted a cover for your iPhone that would make it look like a top tier CM chassis? Well now you can with the introduction of a trio of black silicone rubber covers. This one is the HAF X edition that takes styling from the HAF X and molds it into the cover. In the HAF X variant, there is also a place provided to place a stylus.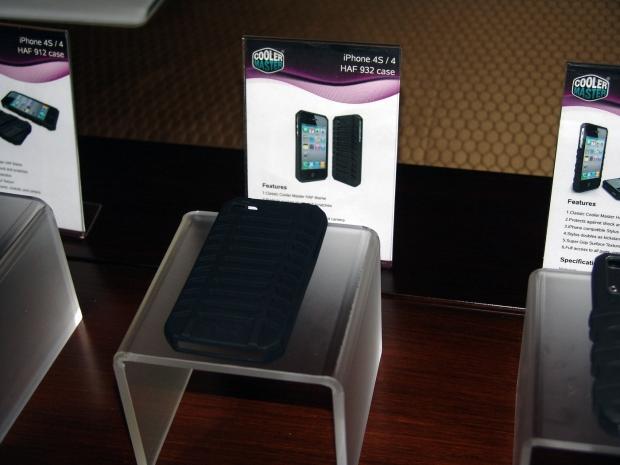 A slightly simpler looking version is the HAF 932 version which essentially offers a similar look to the chassis with the multiple horizontal lines molded into the rubber cover, and as you can see the place for the stylus has been removed.