Thermaltake has a plethora of coolers about to hit the market after CES 2012
No slowing down this company.
Published
2 minutes & 7 seconds read time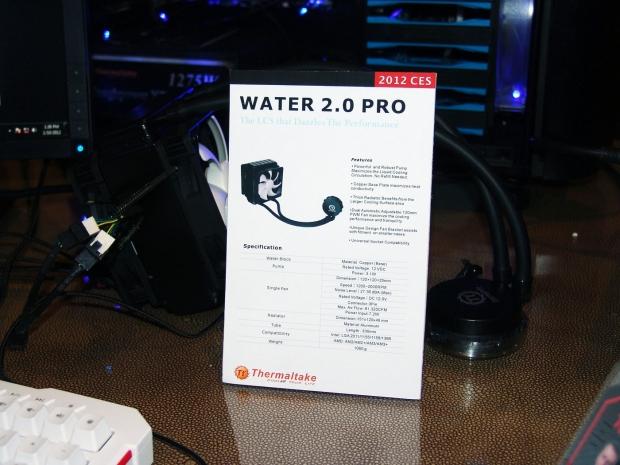 CES 2012 - The first cooler I want to discuss is another AIO water cooler making it to the scene. Here we have an image of the Water 2.0 Pro which is made to replace the older Big Water solutions. Thermaltake has joined with Asetek to deliver this thick radiator version with dual fans on it, but there is a slimmer radiator version also with dual fans, and the third of the group is a dual 120mm radiator version, and again ships with two fans.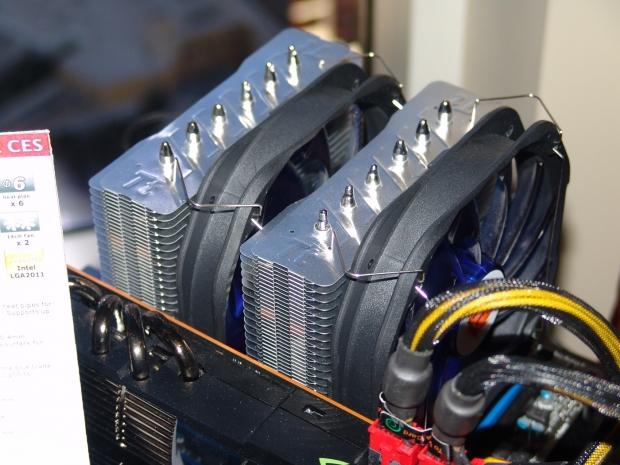 I apologize up front, as I wasn't able to get a look at the new Frio Extreme as well as Cameron did in his video the other night. This is a direct competitor to the D-14 and all other variants of the dual tower concept, but is also rumored to outperform all of those in this category. Another thing noteworthy is the control module in this hardware kit that allows PWM or forced 12V to both fans on the cooler with the flick of a switch. Time will tell as these samples arrive to my door, and I get to do my own testing and see just how well it performs.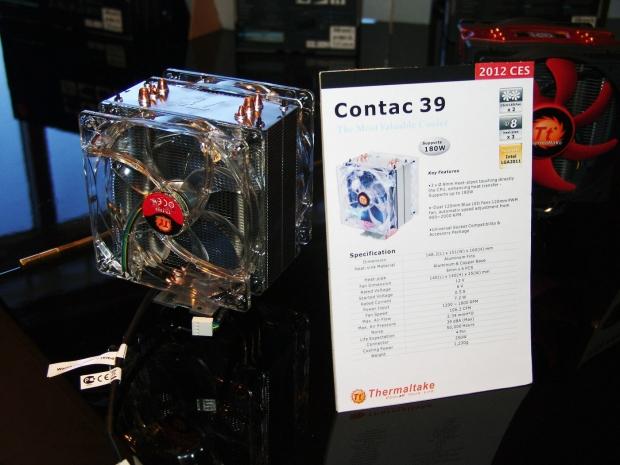 Next in line is a new addition to the Contact line of coolers. The Contact 39 is a single tower cooler boasting three 8mm heat pipes that make direct contact to the processors IHS. Along with this tall stack of aluminum Thermaltake is maximizing the potential of the Contact 39 by using a pair of 120mm fans to cool this tower as much as possible.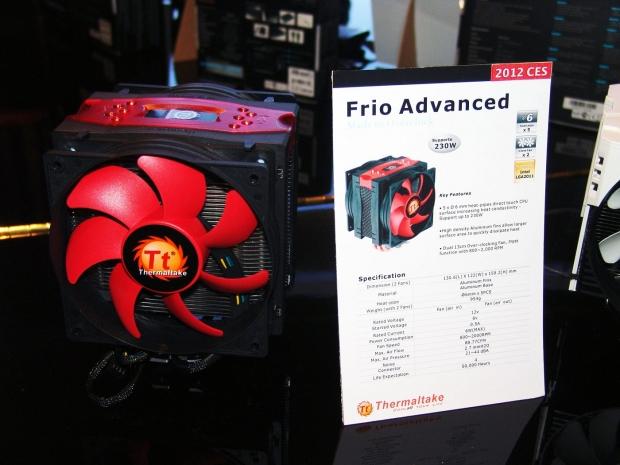 Next on the hit list is a cooler I am really eager to test. I had made mention to Shannon that I would like to see a Jing cooler body with fans more designed for performance than the silence that the Jing delivered. Unbeknownst to me, at the time I was asking, early versions of the Frio Advanced were already on his desk, and this cooler is exactly what I was asking for. While it does have a shroud with dual fans that we are used to in the Frio series, this time the Jing body is the meat in the sandwich. Seems I wasn't the only one to see the potential of that cooler, and as I said, I can't wait to put it through its paces.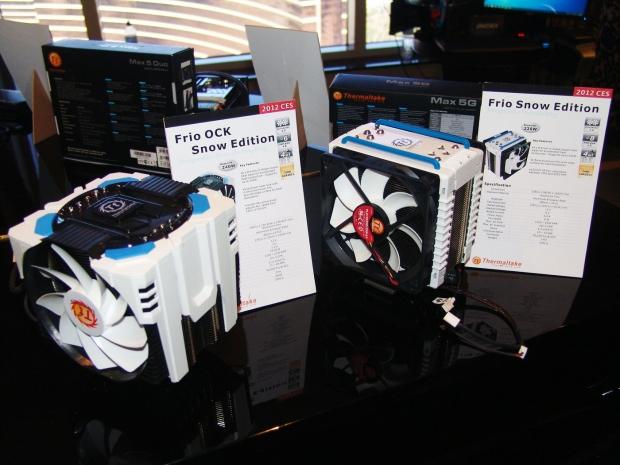 For those who love the Snow Edition of products that have been released from Thermaltake, two older versions of the Frio, both the original Frio and the OCK model will soon be available in the Snow variant. Gone is the red on black in favor of ice blue on white with the latest renditions.
It seems my plate will be full with new arrivals from Thermaltake to test, and to be honest I really can't wait to get my hands on these and see for myself what Shannon and Ramsom have been telling me all this time. Hopefully soon, the reviews will be out and at that point we can see just how well the new arrivals deal with the heat from my 2600K, and how they may or may not handle the much hotter chips from Intel.
Related Tags