Google+ hits 62 million total users, the number of active users is still unknown
Google+ passes 62 million users, is adding 625,000 new users each day.

Published Wed, Dec 28 2011 3:22 AM CST
|
Updated Tue, Nov 3 2020 12:30 PM CST
Google has just passed the 62 million user mark in their social networking site Google+. They're also seeing a very tidy 625,000 new users each day and Paul Allen has a prediction for 2012: Google+ will have 400 million users by the end of next year.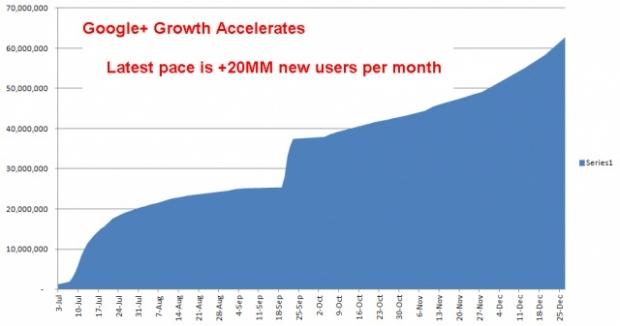 Paul Allen says that the huge growth in support for Google+ could be:
The holidays, the TV commercials, the Android 4 signups, celebrity and brand appeal, or positive word of mouth, or a combination of all these factors, but there is no question that the number of new users signing up for Google+ each day has accelerated markedly in the past several weeks.
Allen has shown some number of what his team from elance has recorded:
July 13 - 10 million
August 1 - 20.5 million
September 1 - 24.7 million
October 1 - 38 million (Larry Page announced "more than 40m users" on Oct 13th)
November 1 - 43 million
December 1 - 50 million
December 27 - 62 million
January 1 - 65.8 million (forecast)
February 1 - 85.2 million (forecast)
As you can see from those numbers, nearly one-quarter of the 50 million Google+ users on December 1 ballooned out to 62 million in just 26 days. This is a huge achievement for Google. If the rate of 625,000 signups per day, Google could see 100 million users by February 25th, 200 million by August and 293 million by the end of the year.
The sign ups could expand past 625,000 per day, and if it does, Facebook will definitely have some strong competition.
Related Tags