PCI-e 3.0 provides 9% increase in performance in compute tasks for AMD Radeon HD 7970
PCI-e 3.0 tested, provides 9% improvement in GPU compute tasks for AMD Radeon HD 7970.

Published Thu, Dec 22 2011 11:29 PM CST
|
Updated Tue, Nov 3 2020 12:30 PM CST
PCI-Express 3.0 has been here for a little while now, but it has only been with the launch of the PCI-Express 3.0-capable AMD Radeon HD 7000-series that there has been some proper testing. The world's first 28nm GPU to support PCI-e 3.0 is here, people!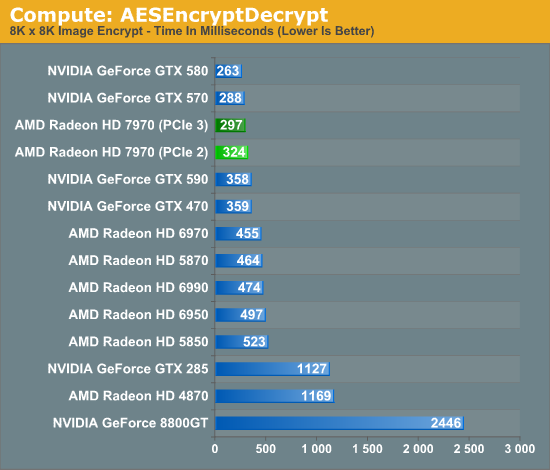 PCIe 3.0 increases per-land bandwidth from 500MB/sec to 1GB/sec, this means for an x16 slot, double the bandwidth from 8GB/sec to 16GB/sec. Impressive, but will we see anything close to double the performance? Not now, and not in games. GPU compute tasks do see a difference in performance, however.
Improving bandwidth and latency between the CPU and GPU is always a good thing, but for high-performance GPU compute tasks, this is the difference between night and day. AnandTech tested AMD's AES Encrypt/Decrypt sample application. The test bed consisted of an EVGA X79 SLI motherboard, with a BIOS provided by EVGA for the PCIe 3.0 toggle on/off.
With this in hand, AnandTech saw a 9-percent increase in performance on the Radeon HD 7970 which told them two things. First, you can get PCIe 3.0 working on a Sandy Bridge-E/X79 board with the Radeon HD 7970, and secondly, PCIe 3.0 will definitely be useful for GPU compute applications.
Related Tags