Harvey Norman announce Direct Import, super cheap games for Australia, finally
Harvey Norman Direct Import - cheap games, GST-free.

Published Thu, Dec 22 2011 1:37 AM CST
|
Updated Tue, Nov 3 2020 12:30 PM CST
Well, if the iiNet acquiring Internode wasn't big enough news for Australia this afternoon, this will be enough to have a celebratory drink tonight. Gerry Harvey has just announced Harvey Norman Direct Import, which will sell import European copies of video games at 'vastly reduced prices'. The site goes live at 6pm this evening, and continue from now. Gerry Harvey has been quoted "if you can't beat them, join them."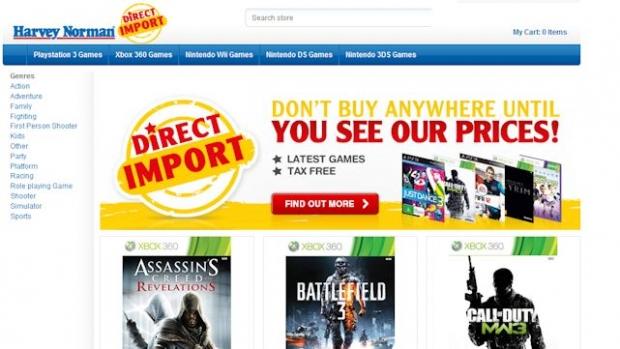 Harvey Norman spokesperson Ben Mackintosh has been quoted:
Harvey Norman is very pleased to announce, from six pm tonight, Harvey Norman will be utilising its global network, selling games direct to the consumers at fantastic global prices GST free. Consumers will be directly importing from Europe at the best prices available.
Mackintosh continues:
The Australian gaming customer has been paying far too much for console games. Retailers and suppliers have been keeping the prices far too high. We're utilising our network to bring better prices to the consumer. We strongly recommend that you do not buy a game until you've seen our website. We will save you money on games. We stand by this as a great new feature in the Australian market and we're going to rip up the prices of Australian market.
When it launches, it will offer console games, with PC games arriving in the future. Gerry Harvey has been quoted saying:
If you can't beat them join them. The number of retailers that are suffering at the moment is higher than it's been in 20 years. Why should an off shore retailer be able to evade duty to evade GST and all the other costs that retailers have? These people don't have any of these cost and at the moment neither does this new company.
Harvey Norman, obviously expects a drop off in customers buying games directly from Harvey Norman stores, because they're "miles cheaper" online, but he sees this as a necessary step if Harvey Norman is to compete.
Related Tags