LeakedTT: NVIDIA to skip 600-series, jump straight to GeForce GTX 780? Did I mention it is nearly twice as fast as the GTX 580?
LeakedTT: GeForce GTX 780 is coming...

Published Sun, Dec 18 2011 7:16 AM CST
|
Updated Tue, Nov 3 2020 12:30 PM CST
This was mostly unexpected, but then again, AMD have been waving their big red flag all over the Internet in the last few days due to the leaked AMD Radeon HD 7970 performance and specs. Today, we have PCINLIFE leaking an NVIDIA slide, that shows the difference in performance between their current single-GPU hero, the GeForce GTX 580 versus the GeForce GTX 780.
Say what? GeForce GTX 780?? Not GTX 680? Yes!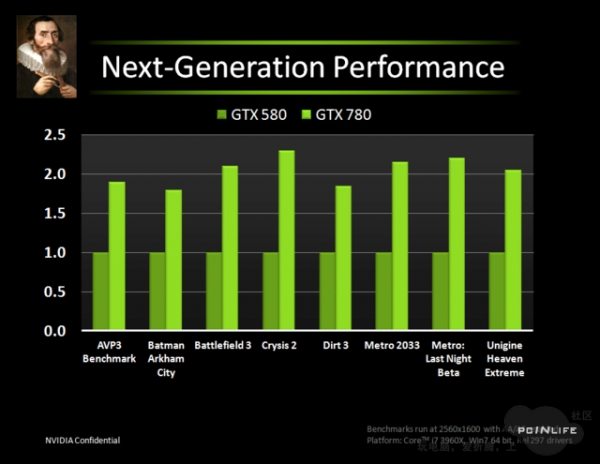 The above slide shows the performance between the current GTX 580 and the next-gen Kepler-based GTX 780. The test bed is a Core i7-3960X, Windows 7 64-bit, 297-Series driver, 2560x1600 resolution with both AA and AF enabled. The GTX 780 is virtually twice as fast as the GTX 580 if the chart is correct.
Impressive... no wait, there's a better word for this, amazing. No, that's not good enough. CAN O' WHOOP ASS. Yeah, that'll do. But, why the skip from the 600-Series to the 700-Series... well, it would make sense if NVIDIA want to not be affected by AMD's Radeon series, and feel like they're on an even playing field.
AMD's next-gen cards are a 7-series (7xx0) and NVIDIA's next-gen, if released in number order, would be the GTX 6xx range. Skipping the 6 and going to 7 would make sense, and if it provides a near-100-percent improvement in performance, NVIDIA can do whatever the heck they want and I'm sure we'll all still love the name.
2012 is definitely going to be the year of GPUs. Now we just need some games, or monitor upgrades to make the new GPU power worth it.
Remember: This is just a leak, rumor, so TweakTown advise that you're up-to-date with your grains of salt and skill levels of pinching it.
Related Tags