LeakedTT: Intel's Desktop Platform Roadmap for 2012
Intel's leaked road map, everything you need to know about Intel for 2012.

Published Tue, Dec 13 2011 10:31 PM CST
|
Updated Tue, Nov 3 2020 12:30 PM CST
To look, or not to look. Ah, come on. You know you're going to take a peek. What does it include? Well, the gist of it, there's not much exciting happening for CPUs (in my opinion) for 2012. The roadmap shows that Intel's superhero, the Core i7-3960K, won't be replaced any time throughout 2012. So, if you have one, you'll feel safe knowing you have the knees that are on those bees throughout the year.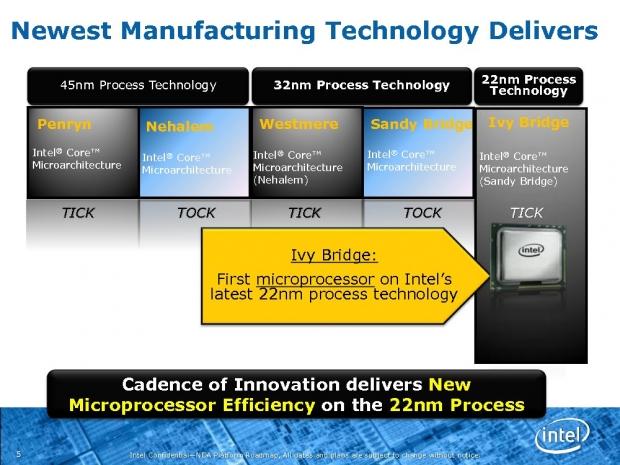 But, there will be shifts in all other segments: premium (Core i7), mainstream (Core i5), transactional (Core i3), legacy (Pentium) and value (Celeron and Atom). The biggest change we'll see from Intel in 2012 is the launch of the 22nm-based Socket 1155. There will be a bunch of CPUs released under this new fabrication.
These chips include the Core i7-3770K which will sit at the top of the hill, clocked at 3.50GHz, sporting 8MB of cache, 8 threads, and a Turbo Boost speed of 3.90GHz. TDP sits at 77W and does so throughout the entire 22nm-based range. This is down from the 32nm-based chips with TDP's at a max of 95.
Filling out the new range are the Core i7-3770, Core i5-3570K, Core i5-3570, Core i5-3550, Core i5-3470, Core i5-3450, and finally, the Core i5-3330. They range between 3.0 and 3.4GHz with ranging cache levels, thread levels, and Turbo Boost speeds.
Intel, don't stop there. There's also a "low power reference table", that lists a bunch of other chips. Starting with the Core i7-3770S, Core i7-3770T, Core i5-3570S, Core i5-3570T, Core i5-3550S, Core i5-3475S, Core i5-3470S, Core i5-3450S, Core i5-3470T, and finishes with the Core i5-3300S. These chips have a maximum TDP of 65W, with the Core i5-3470T sitting pretty with a TDP of just 35W.
Intel's 22nm fabrication, as you can see, has really helped with power draw here.
The leaked roadmap also includes a bunch of detail on the new chipset's we'll see in the form of Z77, Z75 and H77. We'll see on these chipsets: no less than 14 USB ports, with 4 of those being USB 3.0, 6 SATA ports, with 2 of those being SATA 6Gbps-capable, no PCI slots, 4 DIMMs, and HDMI, DVI, DP and eDP outputs.
Take a look at the roadmap and details, get yourself familiar, because this is going to be quite the dozer of bulls in 2012.
Related Tags