U.S. online holiday spending passes $25 billion, sets new record
U.S. holiday sales set new record, surpass $25 billion.

Published Sun, Dec 11 2011 8:27 PM CST
|
Updated Tue, Nov 3 2020 12:30 PM CST
comScore have just released their U.S. online holiday spending numbers for the season to-date, where it has been revealed that consumers continued to spend online in record amounts. In just 39 days of the November to December 2011 holiday season, $24.6 billion was spent online, which is a 15-percent increase compared to the same time last year.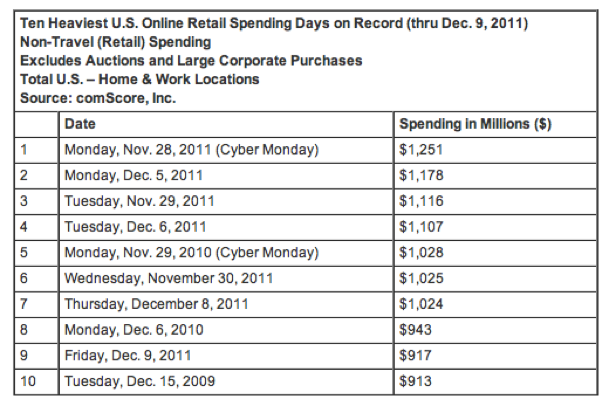 The week ending December 9 reached $5.9 billion in spending, up 15-percent with 3 days surpassing $1 billion in spending. For this holiday season, six individual days have surpassed $1 billion in spending, which for an economy in tatters, is quite the achievement. Cyber Monday leads this with $1.25 billion in sales, as well as Monday, December 5, which now ranks as the second heaviest spending day in history at $1.18 billion.
One of the driving forces behind this new found love for online retail shopping is the use of coupons and deals as well as the increased amount of free shipping offers from retailers. Smartphones and tablets have also helped, with more and more people using price comparison apps, both making purchases from the comfort of their own homes, or inside retail stores. E-commerce companies have noticed this trend and are now offering strong incentives to use and buy through mobile apps.
The sales and spending are not over, yet. Tomorrow is Green Monday, which is a term coined by eBay back in 2007 to describe the Monday occurring around the second week of December, which has previously been the heaviest online shopping days of the year, as it is one of the last days of the week where consumers can purchase and still receive their goods before the holidays. Then we have Free Shipping day this Friday, where online merchants offer free shipping with delivery by Christmas Eve.
Have you shopped online this year? Have you found the specials better this year? Service? Prompt delivery? What are your thoughts?
Related Tags