Rockstar announce Max Payne 3 Special Edition, includes 10-inch Max Payne Statue
Max Payne 3 Special Edition announced, includes Statue and other goodies.

Published Tue, Nov 22 2011 12:54 AM CST
|
Updated Tue, Nov 3 2020 12:30 PM CST
Rockstar have just released the first details of the Max Payne 3 Special Edition which will be made available on all three platforms including Xbox 360, PlayStation 3 and PC. The Special Edition is available for pre-order starting immediately and only available until January 15th, 2012 while supplies last.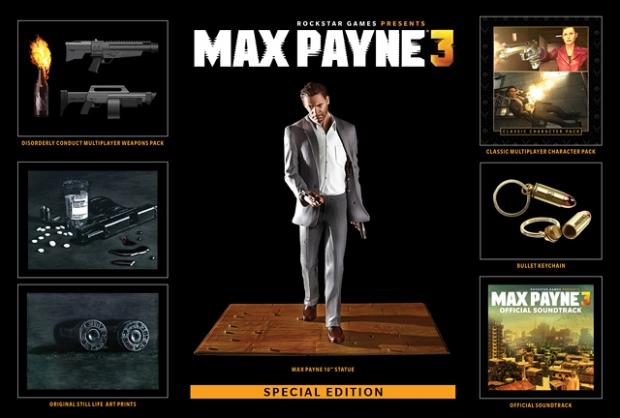 Max Payne 3 Special Edition will cost $99.99 and features digital multi-player character and weapon packs not found anywhere else. The Special Edition of Max Payne 3 includes:
A copy of Max Payne 3.
10" tall Collectible Max Payne Statue created in a collaboration between TriForce and Rockstar Games.
Series of game-inspired Original Still Life Art Prints that depict some of Max Payne's inner demons and vices.
Copper and brass-plated iron, bullet-shaped Bullet Keychain featuring a screw-off back.
Classic Multiplayer Character Pack of eight playable multiplayer characters for Max Payne 3 Multiplayer, including fan favorites from the original Max Payne and Max Payne 2 like Max Payne from Max Payne 2, Mona Sax and Vladimir Lem.
Disorderly Conduct Multiplayer Weapons Pack for Max Payne 3 Multiplayer that includes the Hammerhead Auto Shotgun, G9 Grenade Launcher and Molotov cocktail.
Max Payne 3 Official Soundtrack featuring the game's instrumental score.
I have two words: do want.
Related Tags