NVIDIA Maximus hybrid processing technology, combines the power of Quadro and Tesla
NVIDIA unveils Maximus, hybridization of Quadro and Tesla.

Published Mon, Nov 14 2011 10:12 PM CST
|
Updated Tue, Nov 3 2020 12:30 PM CST
NVIDIA have just launched a new hybrid processing technology that should interest professionals that want to use NVIDIA's graphics and compute products in the same machine. NVIDIA first showed the technology off at SIGGRAPH 2011 in August, and now enter, Maximus.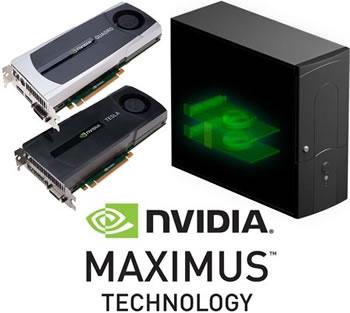 Maximus technology works pretty close to how their consumer graphics switching software, Optimus, works. Instead of allocating resources between two graphics processors (generally an integrated and discrete solution), Maximus offers the hybridization of NVIDIA's Quadro GPU and Tesla GPGPU products.
Where the Quadro series is targeted toward displaying graphics such as computer-aided design (CAD) and Tesla is geared toward raw compute tasks. Now, systems sporting both products can use Maximus to intelligently distribute loads as necessary. In the video demonstration below, NVIDIA shows how professionals would use the Tesla card to render a project, while Quadro allows them to continue working.
Quadro has the ability to actually perform both tasks, but the rendering process is usually so strenuous that it can't do anything else. Maximus steps in and changes the entire game. Maximus also allows users to harness the additional computing power by dedicating both cards to the same workload. NVIDIA claims that something that would usually take eight hours to compute, could be finished in as little as an hour if the Quadro and Tesla powers are combined.
Maximus is also already supported by or will soon be supported by a broad number of professional software suites such as Adobe, Ansys, Autodesk, Bunkspeed, CAD, Dassault Systemes, DCC and Mathworks. Maximus-powered machines will be offered through HP, Dell and others.
Related Tags