Skyrim, reviews are insanely good. Looks like a GOTY title is here, folks
Elder Scrolls V: Skyrim, its here and everyone loves it.

Published Fri, Nov 11 2011 10:11 PM CST
|
Updated Tue, Nov 3 2020 12:30 PM CST
While we can get mixed up in the David vs Goliath battle that is Call of Duty vs Battlefield, we can forget another amazing open-world RPG launched from Bethesda. No, wait, no we can't. Skyrim has been getting its fair share of press too, and while it might be able to boast of nearly half a billion in first-day sales, it can boast with its near-perfect reviews.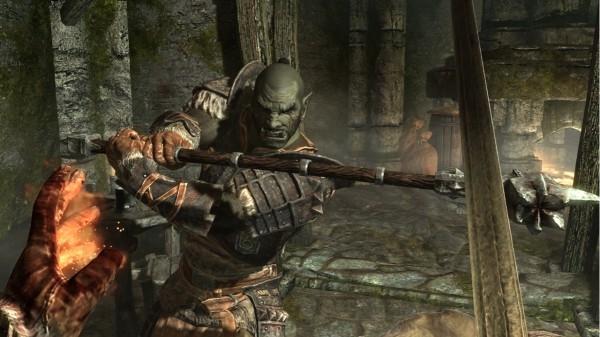 It looks like its gotten 90-percent or higher in every review, without me over-exaggerating. I'll let a few quotes from some reviews convince you:
Guardian:
The sheer size of the adventure, both in terms of its environment and in the amount of activities available to the player, is mind-blowing.
Giant Bomb:
It's one thing when a game offers dozens of hours of gameplay; it's quite another when that gameplay is good enough you'll want to live in its world for that long.
IGN:
...playing Skyrim is a rare kind of intensely personal, deeply rewarding experience, and one of the best role-playing games yet produced.
PCGamer Uk:
The games we normally call open worlds - the locked off cities and level-restricted grinding grounds - don't compare to this. While everyone else is faffing around with how to control and restrict the player, Bethesda just put a fucking country in a box. It's the best open world game I've ever played, the most liberating RPG I've ever played, and one of my favourite places in this or any other world.
Is that enough? It's good enough to make me get it, so I did. I'll play it over the next few weeks, even if its here and there between Battlefield 3. Skyrim better work on my 3 screen portrait setup or there will be hell to pay.
Let's talk optimizations, Rock, Paper, Shotgun have talked about optimizing the new hack-and-slash super RPG. It talks about editing the FoV, which is an issue as it was developed around consoles first, but can be changed thankfully. Other optimizations are included for you to see if you check out RPS' site.
Note: I posted this on 11/11/11 @ 11:11. Spooky.
Related Tags