Well, this is beginning to get interesting. Apple are positioning themselves nicely right now, trying to secure HDD stock and supply. The story unfolds as an explanation of how business works, which helps explain Apple's position. Explaining it as a purchasing system, which creates huge advantages for the biggest, cashed-up companies, such as Apple.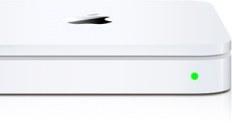 Each buyer has a certain amount of money (and power) and can place big orders that the supplier could not ignore. So if the buy says "Forget everyone else you are dealing with, I want to order 1.2 million units in 2011 and I'd like them dropped off with me at the rate of 100,000 a month, but I won't be buying them until I sell them...Oh, yes, and I won't pay for them until 3 months after I sell them", then the supplier has no choice buy to drop their pants and bend over. (KitGuru's words, but they were so good I had to use them).
Dell have been doing this for years and countless other companies, too. Both sides are aware of the practice, and are compliant with it. But, throw in a massive reduction on supply and the rules are changed, completely. The supplier now has the power and with demand so high everywhere else, it [the supplier] has the power to 'give a story' to its regular customers, while they shop around for massive profits.
At the moment, the world needs hard drives because of the Thailand floods. Drives are set to go through the roof, even though manufacturing costs haven't really moved. Normally, manufacturers would be rubbing their hands together, looking forward to announcing a record quarter. But, this isn't the case if you're the supplier for Apple. Their drive buy prices have been fixed, totally.
Apple's purchasing team have reportedly made it crystal clear to hard drive suppliers across Europe that the consignment stocks they are holding (which have been promised to Apple) had better remain untouched by greedy hands, or the consequences will be 'severe and long lasting'. So while the rest of the market is desperate for hard drives to try and satisfy customer demands and requirements, Apple are confident in their supply, as you can imagine.