2005 YU55, a 400m-wide Asteroid that will fly past Earth on November 9 at just 324,600km
2005 YU55, an Asteroid that comes pretty close to Earth in just 1 weeks time.

Published Wed, Nov 2 2011 10:05 PM CDT
|
Updated Tue, Nov 3 2020 12:30 PM CST
For those of you who don't know, there is a 400m-wide asteroid called "2005 YU55" that will fly past us (and in-between the Moon) on November 9. It will fly past at just 324,600km away, which is 0.85 the distance of the Moon itself, it won't kill us; but it is close enough to be news-worthy.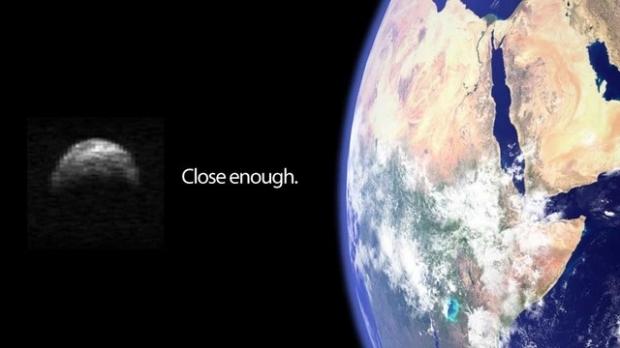 According to NASA, the "trajectory of asteroid 2005 YU55 is well understood", so there's no dangers whatsoever. The asteroid won't have any gravitational influence on Earth, so it won't make volcanoes go off or cause Earthquakes, etc. But, our gravitational pull might re-direct 2005 YU55. This is something NASA don't really cover, because it will [of course] most likely cause panic.
Also remember, that on the same day, FEMA (the Federal Emergency Management Agency) along with the FCC (Federal Communications Commission) and the NOAA (National Oceanic and Atmospheric Administration will be running a nationwide event coordinated by those agencies and administrations. Come November 9, there will be a test of the Emergency Alert System (EAS) in which the test will be heard on the radio and seen on local, cable and satellite TV.
Most people in the US are familiar with the alert tone, but there will be some differences in what viewers will see and hear. The audio message will repeat "This is a test.", while the video message scroll may NOT indicate "This is a test." The message will last for approximately three minutes, after which regular television, radio and satellite programs are said to resume.
The test is said to be because the Federal Government is preparing to test their capabilities, this event serves as a reminder that everyone should establish an emergency preparedness kit and emergency plan for themselves, their families, communities and businesses.
Then, we have NASA warning for ALL employees, family, friends to prepare...
A 400m-wide asteroid, and a national (see 350 million+ citizens) with an Emergency Alert System test, on the same day? Coincidence? Just thought I'd throw it out there, as always, be safe and prepared.
Related Tags