For those of you in the know, you'd know that Mainstream Media is a mostly controlled medium. If they were to tell the real news, then most politicians, presidents, members of Congress and more, would all be thrown in jail. But, instead, the money from powerful people is used to gain control and influence within the power of politics. The same goes for news. This is where Anonymous steps in with something they're calling "Operation Fox Hunt".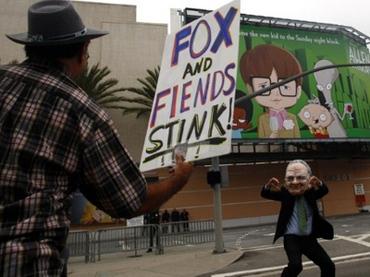 Anonymous promise an all-out attack on the Fox News website as retaliation for the network's unjust attack on protesters with the Occupy Wall Street movement. In the YouTube clip, the digitized voice says:
Since they will not stop ridiculing the occupiers, we will simply shut them down. Fox News, your time has come . . . Operation Fox Hunt. November 5th. May the hunt begin.
November 5 is already a day chosen by members of the Occupy Wall Street movement as a practical holiday, with "Operation Cashback" expected to occur on Nov. 5 across the world. Under Operation Cashback, demonstrators are asked to close bank across across the world, and move money out of large banks and into smaller, local credit unions. This has already happened in the US, with an attempt at closing accounts at a Lower Manhattan-based Citibank earlier this month which resulted in an arrest of several occupies.
The reason behind Anonymous' attack on Fox News is most likely due to when Fox News first covered OWS, their coverage was light-hearted and laughable. Megyn Kelly, a Fox host, called a young female protestor's response to being pepper-sprayed by an unprovoked NYPC officer and "overreaction". What's worse, is an article on FoxNews.com describes the movement as being engaged by (and I'll quote this word for word):
A 'red army' of radicals seeking no less than to provoke a new, definitive economic crisis, with their goal being the full collapse of the U.S. financial system, with the ensuing chaos to be rebuilt into a utopian socialist vision.
I don't know how a few thousand people can have a goal of bringing the full collapse of the U.S. financial system, when Wall St, Congress and all of the people involved in the bureaucracy, [lack of] regulation, and bail outs of the "too big to fail" banks, when they should've been concentrating on the people. Bring production back to America, concentrate on not just shipping millions upon millions of jobs out of the country because labor is cheaper elsewhere.
They should've spent the trillions spent on bailouts and various packages on production plants for most things made in China.
Operation Fox Hunt starts on November 5, and we will report any news that happens. Stay tuned, folks!