Ultimate FPS Simulator, sports Battlefield 3 and will be shown off on 'The Gadget Show'.
The Gadget Show designs the Ultimate FPS Gaming Simulator

Published Wed, Oct 19 2011 2:09 AM CDT
|
Updated Tue, Nov 3 2020 12:30 PM CST
Well, my dear wife: I have now found what I want for Christmas. One of these, please. Fan of Battlefield 3? Want some 360-degree, almost real life FPS simulation? Well, on Monday the 24th of October, watch The Gadget Show at 8PM on Channel 5.
This is a [truly] unique FPS simulator in which it turns gaming to near reality as you move, aim, fire and get shot within a 360-degree immersive environment. The team used a pre-release copy of Battlefield 3 and poached a team of top technology experts from across Europe to built a true one-of-a-kind simulator.
It sports the world's first, portable omni-directional treadmill designed by Swedish-based company MSE Weibull, the simulator lets you control the movements of your Battlefield 3 character with your own body (!). Now get ready for the best bit, it also sports 12 paintball markets that allow the player to feel the real punch of bullets - you will feel your enemies shoot you, for real.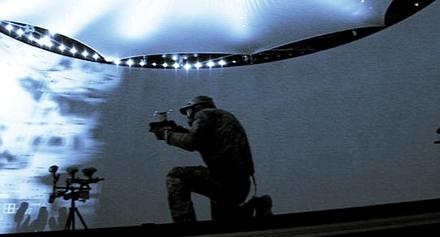 It also features a wireless gun system, ambient LED lighting and uses an Xbox Kinect camera hack. What I want to know is, can this be delivered to my house and who do I have to sleep with to get one?
Related Tags