World's cheapest tablet released in India, just $35 for students, $60 in stores
Aakash, India now can claim they have the cheapest tablet, just $60, or $35 if you're a student!

Published Wed, Oct 5 2011 8:00 PM CDT
|
Updated Tue, Nov 3 2020 12:31 PM CST
The Indian Government has released a new tablet computer, Aakash, dubbed "the world's cheapest". And at $35 for a student, and $60 for stores, it sure is the cheapest. Here we were thinking that Amazon's Fire was cheap, but now the Indian Government has come and knocked our socks off. On top of the price of the tablet, India is giving away 100,000 free during the launch period. The first 500 tablets released had a luke warm response, with some complaining that they were slow.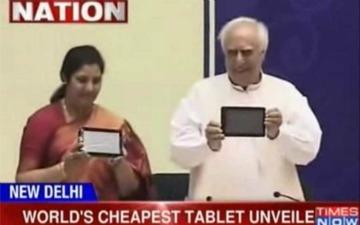 The Government hops that the Aakash will bridge the gap between the rich and poor. Kapil Sibal, communications and education minister says:
The rich have access to the digital world, the poor and ordinary have been excluded. Aakash will end that digital divide.
What does the Aakash have inside is what most people would want to know, considering the price, so here we go: Android 2.2 Froyo, a 7-inch touchscreen, weighs in at 350 grams, includes 32GB of internal memory, 256MB of RAM and two USB ports. Battery wise it sports a 2100mAh battery that should last for two to three hours - not bad considering the price! It also includes some pre-loaded apps, but doesn't have access to the Android Marketplace.
The Aakash has been tested in 118 degree Fahrenheit conditions to replicate northern India's summer. Datawind, a small British-based company, developed the tablet with the indian Institude of Technology. The tablet is being produced in India and should hit shelves next month. The government then plans to start selling them at the $35 subsidized price to students next year.
Related Tags