Apple stats, 16 billion iTunes songs downloaded, 300 million iPods sold and more
Apple stats, OS X downloads, iTunes downloads, MacBook Pro is the most popular Notebook sold in the.

Published Tue, Oct 4 2011 11:00 PM CDT
|
Updated Tue, Nov 3 2020 12:31 PM CST
On top of Apple's announcement today of the iPhone 4S, Tim Cook has come out swinging with a bunch of Apple-related numbers to impress the world with. Starting with, there have been 16 billion songs downloaded from the iTunes store, and also 300 million iPods sold. To give you some perspective, Sony took 30 years to sell just 220,000 Walkman cassette players.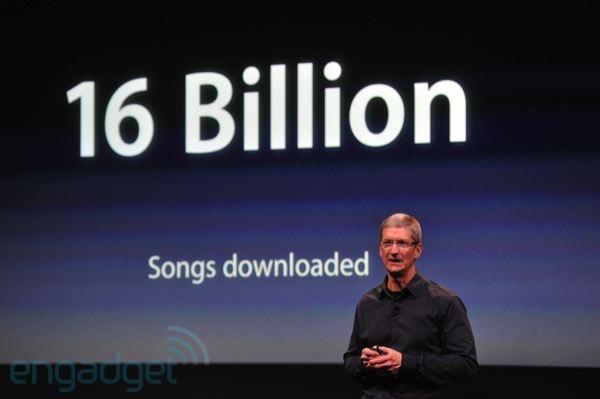 Cook also announced that "the MacBook Pro and iMac are the number one best selling notebook and desktop in the United States". Apparently, the Mac platform grew by 23 percent over the past twelve months, versus a four percent increase from the PC sector. Cook displayed a chart showing the past five years for Mac, showing that Apple is closing in on 60 million Mac users worldwide, leaving Apple short of owning a fourth of the personal computer market. Cook says "there are still 77 percent of people who are buying something else, we have an incredibly high ceiling here. We have a long way to go".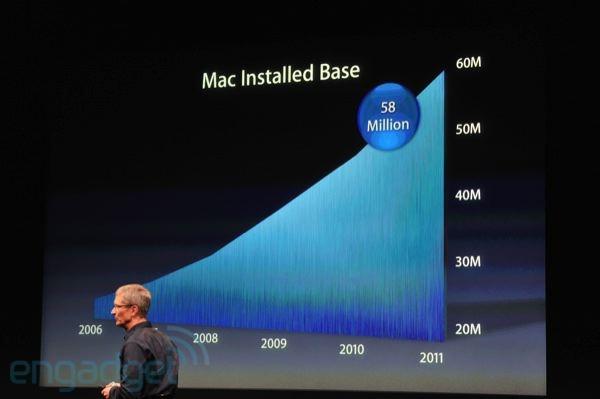 Cook has high dreams for Mac, and with the way things are going, they should have no issues getting there.
Next up we have Lion numbers, six million copies downloaded since the launch. According to the Apple CEO, thats a growth of 80 percent over Snow Leopard. Now for a comparison, Cook says it took Windows 7 20 weeks to meet 10 percent of Windows' install base, compared to two weeks for Lion to do the same thing to OS X. But, remember that Windows' install base is much, much larger - so I don't like what Cook did there. But there you have it folks! Huge numbers from Apple today as well as the launch of the iPhone 4S.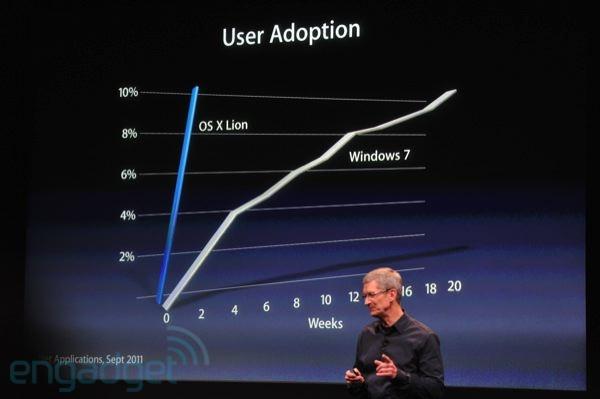 Related Tags