Amazon intros $199 tablet, Kindle Fire, debuts on November 15
Amazon intros Kindle Fire, $199 tablet that debuts November 15.

Published Thu, Sep 29 2011 9:06 PM CDT
|
Updated Tue, Nov 3 2020 12:31 PM CST
Amazon has finally unveiled their Android-based tablet, which is now known as the Kindle Fire. The 7-inch, 1024x600 device will feature a heavily customized interface tailored around Amazon's services and starting at a surprisingly low price of just $200. In order to get to the sub $200 price point, Amazon have had to cull a few features from the Kindle Fire such as 3G access, a microphone and front/back cameras. Kindle Fire does however include Wi-Fi and a free 30-day trial of Amazon Prime, which is normally $79 per year.
What that means is, you'll get a taste of Amazon's collection of streaming video content and free or discounted shipping for your purchases at Amazon.com. Not only that, but you'll also gain access to the Android Appstore, Kindle books, magazines, and more - all stored for free through the Amazon Cloud Storage and synced between devices invisibly in the background. Whispersync now works with video content, so you can pick up where you left off in a movie or TV show even after switching devices.
Kindle Fire sports 8GB of internal storage, a USB 2.0 port, and battery life for up to 8 hours of continuous reading of 7.5 hours of video playback, with wireless off. Amazon is also introducing something called Amazon Silk. Amazon Silk is described as a lightning-fast web browser that takes advantage of Amazon's EC2 cloud computing engine. CEO Jeff Bezos explains that Silk splits the workload so that some web request are handled locally by the Kindle Fire, while the others are remotely handled by the cloud at Amazon, optimized and sent back to you.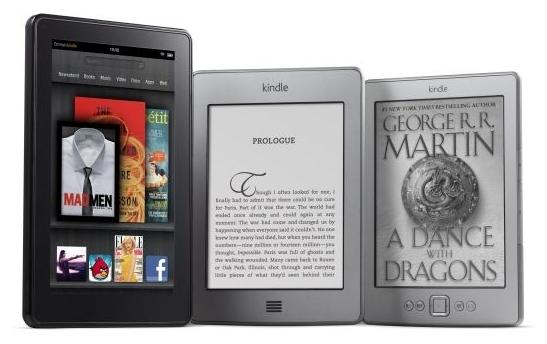 The cloud acts like a "limitless cache" for sites you visit to let you browse fast.
Amazon says that the Kindle Fire will start shipping on November 15, with pre-orders starting today. Amazon also unveiled the $99 touchscreen e-reader, Kindle Touch as well as a regular Kindle that will start at just $79.
Related Tags