Google I/O 2011: Chromebook subscription, how it works and how much it'll cost you
Google I/O 2011: How the education and enterprise monthly costs work.

Published Wed, May 11 2011 8:31 PM CDT
|
Updated Tue, Nov 3 2020 12:31 PM CST
Google I/O 2011:
Subscriptions for laptops, eh? Sounds like mobile phones but, for a laptop. This is a grand step for Google as they're now going to be snapping at the heels of the old-school big boys and the old hand shakes in dark alley companies such as IBM, Dell, etc. Chromebook is to not be mistaken as a Windows or OS X-based solution, Google is grabbing one hand on the internet and cloud-based solutions such as GMail, Docs, Calendar and with the other hand, firmly squeezing the notebook market and by the power of greyskull (or something like that) they've infused these two sections of the IT market and created Chromebook.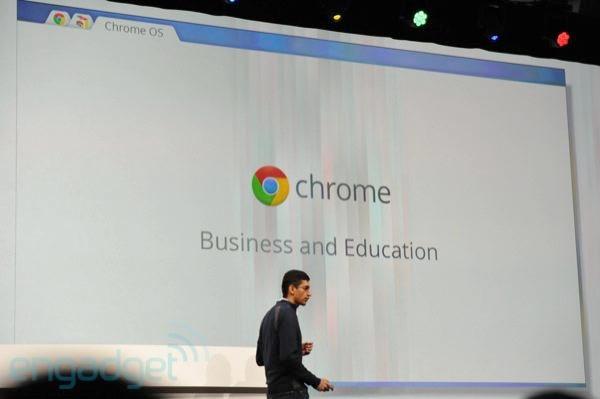 But, that's just the beginning, using a subscription-based model, Google can sell these Chromebook's on the cheap and get into the market faster than corporations, companies or schools dumping $1000 or $2000 per machine. How will the subscriptions work? Enterprise users will pay $28 per user, education users are $20 per user. Customers will enter a three-year contract if they want to take on that pricing model - three years sounds like a long time but for business and educational use, is there a need for more power over time?
Google advertise it themselves that the Chromebook's will update over time via over-the-air updates, saying that the Chromebook will actually be faster over time. Because it's an all-in-one solution,it will act like a smartphone, which also gets faster via firmware updates.
For the enterprise user, $28 per month for 36 months includes full warranty and replacement provisions, tech support and all of the updates that Google will push to the Chromebook over those three years. Keep in mind that the subscription-based model doesn't include Google Apps which will require a user to purchase that as an add-on.
Benefits of this? Enterprise and education users will receive access to a management console (which is used to administrate their machines), a direct tech support line to Google and a Google-backed warranty. Usually the warranty is a carrot-in-front-of-the-horse type of deal where you run around trying to deal with the manufacturer, so this little detail might not be big but it is one that is definitely worth telling people about.
Also, there will be no need to purchase licenses for anti-virus, data encryption or data back-up software - where on the Windows-based side, this can run into the millions of dollars per day in subscriptions and software purchasing.
So now we come down to how you'd like to pay for this? Consumers will pay between $349 for the Acer Chromebook (WiFi-only) up to $499 for the Samsung Series 5 (3G). But, Enterprise pricing is $28 per user, per month and educational pricing is $20 per user, per month. See the benefits? Keep in mind that there are minimum quantity requirements for both enterprise and educational pricing with 10 units minimum.
Lastly, if an enterprise or educational user enters into a contract and they would like to escape said contract, there is no easy way out. Google are starting that users wishing to terminate their contract must "pay out the rest of their contract". But, the benefits of the above-mentioned goodies are sure to keep you hugging Google for 36 months. IT-related costs will come down and less support will be required over the long haul.
There's a change coming, folks and that change looks like Gooooooooogle.
Related Tags