16:12 US PST:UPDATE
: Both of the LG Devices will offer Wireless content streaming!! That's right, no plug or HDMI out required (although it's available too).
Tony Curry, LG PR representative, just got up to tell everyone about how much LG loves the Tegra 2 processor. Shipping this week are both the LG G2x smartphone and the LG G Slate tablet, available exclusively on T-Mobile. Life is certainly good with these two devices, sporting 4G capability and optimized battery lives.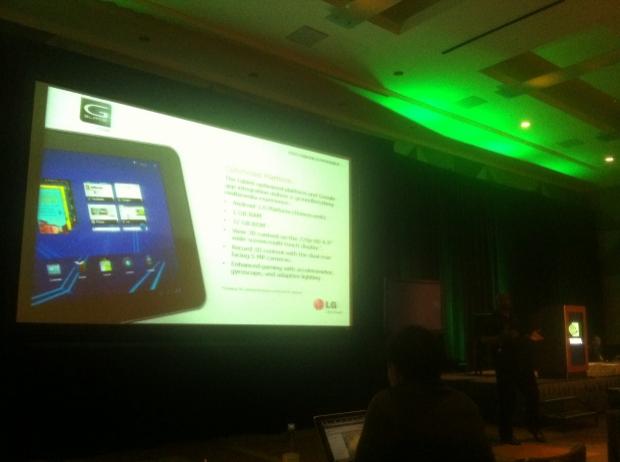 Curry waxed enthusiastic about LG Mobile's relationship with NVIDIA:
I don't want to say that we're married to the Tegra platform, but we absolutely love it.
Curry noted that when it came to the best optimization of power, speed, and battery consumption, Tegra won out over other processors. He spoke at great length about the two devices, which appear to be pretty killer- especially with regard to mobile gaming. The G2x brings 512MB of RAM and 8GB ROM that can be upgraded to 32GB Micro USB. Also included is an 8mp camera (front-facing is 1.3mp) and 1080p HD video recording. Starts at Android 2.2, but totally upgradeable to mobile 2.3 Gingerbread come June. Oh, and it's the first DTS Ultra Mobile phone. Ever. That means some of the sickest sound you've seen on a mobile device. I witnessed it myself, it's incredible.
The G Slate tablet is like the G2x's bigger, badder older brother. A gig of RAM, 32gb ROM, and a passive 3D engine. Even better, it records in HD
and
3D, runs Honeycomb 3.0, has an 8.9" screen with a 1920x1080 HD resolution. These machines both run the formidable Tegra 2 1GHz dual-core processors, and it bears repeating that battery lives are very impressive: 1,500 and 6,400 mAh, respectively.
Curry also briefly discussed the fairly new
LG Mobile Developers network
:
I know we haven't paid a lot of attention to third party developers, but consider this our olive branch.
LG is trying to give a little more love to mobile developers now, with their recently released LG Real3D SDK and the current dev community that they've been fostering over the last few months. The G Slate tablet certainly has a lot of development possibilities- the dual cameras and portability, as well as the large processing powers and virtual memory would let developers run some pretty sweet mobile Augmented Reality experiences, and I'm curious to see what developers are going to do with the passive 3D engine, especially since users can now record 3D.