Nvidia Tegra Conference Is All About Games
TegraZone will help mobile Android users find the best games.
Published Mon, May 9 2011 3:52 PM CDT
|
Updated Tue, Nov 3 2020 12:31 PM CST
13:52 US PST:
Here at the lovely Intercontinental Hotel in San Francisco, I'm listening to Bill Rehbok, General Manager of Mobile Games at NVIDIA tout just how awesome and how important their TegraZone platform is to Android mobile gaming. Android recently surpassed iOS as the most used OS for game developers with over 300 million users. TegraZone is what Rehbok describes as a content curator, ensuring that the best mobile games (those that run on NVIDIA Tegra) are available.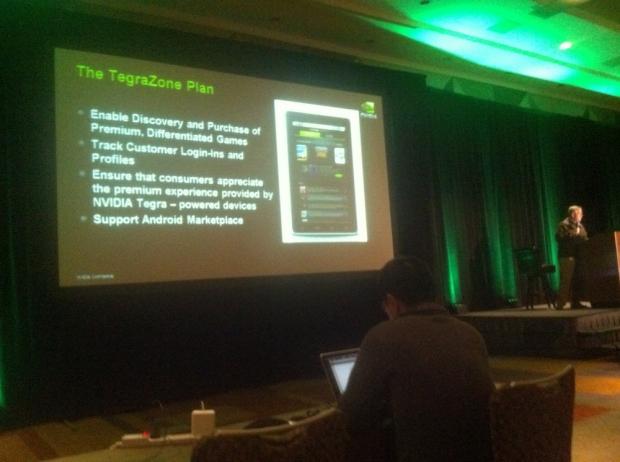 one of the biggest challenges is communicating to consumers what they can run, what they can play, and what they can pay for on their mobile devices.
Right now, there are 5 featured Tegra-based games currently dominating in the Android app market, including Pinball HD, Sumurai 2: Vengeance, Dungeon Defenders, Backbreaker THD and Fruit Ninja THD. According to Rehbok, Tegra is seeing 1 Mil users per week of the TegraZone curating app, that allows in-app purchases and downloads of NVIDIA mobile games. Rehbok cited the dangers of repeating Atari's downfall, something he attributes to crashing under their own weight. With the existence of who-knows-how-many mobile games available on Android, TegraZone gives mobile Android users access to "the best mobile content around":
Developers are coming to us literally every day with a game that knocks our socks off.
1 Million users a week is nothing to sneeze at- with Tegra-based phones and tablets like the Motorola Atrix 4G, Xoom, and Droid Bionic, and the LG Optimus series, TegraZone will be a very valuable resource for mobile Android gamers. Check out more photos from the talk in the gallery!
Related Tags