Windows 8: Roaming Options, syncs to Microsoft's fluffy cloud
Windows 8 feature, Roaming Options, syncs your Windows account to your Windows Live account.

Published Wed, Apr 27 2011 9:50 PM CDT
|
Updated Tue, Nov 3 2020 12:31 PM CST
Microsoft are doing a bang-up job on Windows 8, every week theres a new feature leaked and nearly every single one has sounded like a great idea and really adds to the upcoming Operating System. Today we have the "Roaming Option" which looks like it allows a user to link their Windows account to their Windows Live account.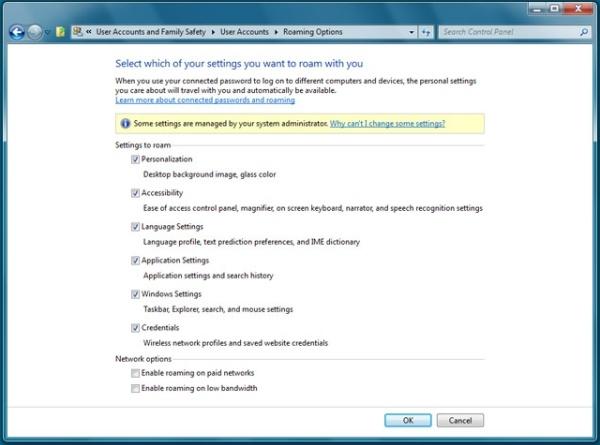 With Roaming Option, there are six types of customizations which you can move to a different computer: Personalization (Desktop background image, glass color), Accessibility (Ease of access control panel, magnifier, on screen keyboard, narrator, and speech recognition settings), Language Settings (Language profile, text prediction preferences, and IME dictionary), Application Settings (Application settings and search history), Windows Settings (Taskbar, Explorer, search, and mouse settings), and Credentials (Wireless network profiles and saved website credentials).
From the screenshot above we can also see that there are two "Network options" within the Roaming Options category. One is "enable roaming on paid networks" whilst the other is "enable roaming on low bandwidth". From these options it looks like Windows 8 will be able to differentiate between network speeds, for example someone on a 3G connection (mobile, smartphone, tablets) will be limited versus someone on a full broadband connection. Nice.
Related Tags