1120 Shaders on our and others AMD Radeon HD 6850
Just an update on what's happening.
Published Fri, Oct 22 2010 12:34 PM CDT
|
Updated Tue, Nov 3 2020 12:33 PM CST
Word has quickly started to get around regarding the AMD Radeon HD 6850 carrying with it 1120 Shaders. This afternoon when I was testing for my HD 6850 OC article, I noticed that in GPU-Z my HD 6850 was listed as 1120 Shaders. When I realized I double checked the video card to see if it was actually the HD 6850 and it was.
I had a look at my Sapphire card and noticed that it also showed 1120 Shaders. With the version of GPU-Z being brand new, I put it down to nothing more than a software error since both cards showed it. It's becoming widespread that the cards actually have all 1120 Shaders enabled.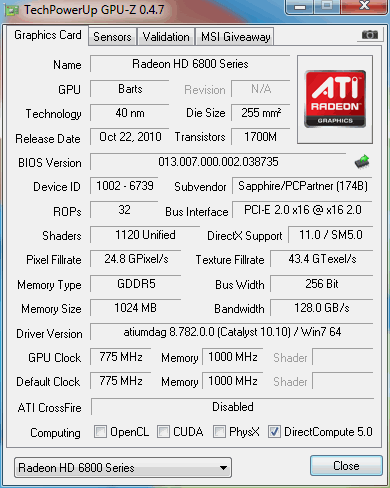 While it doesn't skew our opinion of the HD 6850, it does affect the overall performance. At the moment, though, we don't have a BIOS for the HD 6850 that's only 960 Shaders. Next week when everyone starts to get back to work, namely AMD and its partners we've got samples from, we will speak to them about the situation.
What we want to really find out is can we enable 1120 Shaders on all HD 6850s. We will keep everyone in the loop regarding this and let you know what's going on. Who knows we could be making the 1120 Shader HD 6850 BIOS public next week.
It has got us wondering, though, marketing stunt by AMD? You can kind of imagine it. Oh, people found out about the HD 6850 being able to have all the Shaders unlocked, how terrible the value looks so much better and it makes NVIDIAs cards look worse. Who knows?
Looking around there's editors choice all over these series from 960 Shader samples and 1120 Shader ones - one thing is for sure, these cards still kick butt.
Related Tags