Crazy good 3D TV deal offered at Dixons for UK home theater fans
3D TV bundle has it all.
Published Wed, Oct 13 2010 1:14 PM CDT
|
Updated Tue, Nov 3 2020 12:33 PM CST
Many people out there are interested in 3D TV in their home, but are waiting for the prices of the 3D hardware to come down before they buy. If you are a home theater fan in the UK that has a Dixon's location nearby, this may be the time to purchase your system with a slick 3D TV bundle from Samsung at the store. The bundle has everything you need to watch 3D movies at home.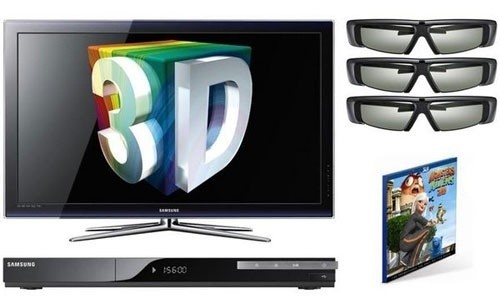 The bundle includes a 50-inch Samsung PS50C680 full 3D plasma TV. The TV has Dolby digital sound options, four HDMI ports, and dual USB ports among other features. Along with the TV Dixons is also bundling a Samsung BD-C5900 3D Blu-ray player that can be connected online with integrated Ethernet or an optional WiFi dongle. The Blu-ray player will also scale standard DVDs to HD. Together the two will let you watch 3D Blu-ray films that will be coming to market in force soon enough.
The bundle includes one of those 3D Blu-ray titles with Monsters vs. Aliens 3D for you to watch. One of the biggest issues with getting gin to 3D in the home is the purchase of the 3D glasses, which can run as much as $200 per pair. The Samsung TV works with the SSG2100AB 3D active shutter glasses. The TV has the transmitter required built-in. The bundle includes three pairs of the glasses so many families will have enough glasses right out of the box to start watching. The entire bundle is on sale for 999.00.
Related Tags