Jailbreak Matrix has your roadmap to jailbreaking
Dive into the joy of warranty voiding.
Published Thu, Jul 29 2010 11:33 PM CDT
|
Updated Wed, Mar 10 2021 1:19 PM CST
Want to take a dive into the newly legalized jailbreaking of your Apple product but confused on where to start? Jailbreak Matrix has a roadmap to get you on your way to the joys of jailbreaking.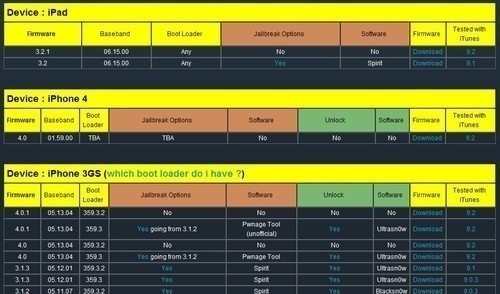 Jailbreak Matrix has posted a huge chart covering the iPhone, iPod Touch, or iPad and all of the possible firmware for each. Combining that with possible baseband and boot loaders, you end up with the tools needed and version of iTunes you can use for a jailbreak with a higher possibility of success. They even hook you up with a step by step process to make the process as easily as possible. Just remember, nothing is guaranteed and you're voiding your warranty......if you care about that sort of thing.
Related Tags