Build your own tablet with this DIY tablet kit
Tinkerers and iPad haters rejoice!
Published Jun 18, 2010 2:47 PM CDT
|
Updated Tue, Nov 3 2020 12:34 PM CST
0 minutes & 54 seconds read time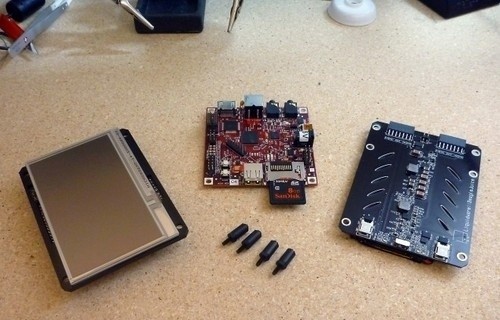 We have seen a lot of news about a lot of tablets on the horizon, but if you're not into the iPad, what's a guy gotta do to get his hands on a tablet right now? Well, for about 400 dollars, you can build your own "iPad killer" from the comfort of your own workshop.
Liquidware a company dealing in open source hardware, has released a tablet starter kit called the "Beagle." With a 4.3" OLED screen that mounts on a "BeagleBoard," the kit also includes a 1 Ghz processor, a battery module, and 4GB pre-formatted SD card to boot Angstrom Linux. Android is said to be supported on the system as well. There is no onboard storage past the SD card, but a USB port is included to connect an external device or pop in a larger SD card. Battery life is said to be from 3-6 hours. Everything from loading the OS to all the applications is up to the end user.
"The Beagle tablet is a portable modular open source handheld computer," says Justin Huynh, director of product development at Liquidware. "It's all about customizability and embedded development. With the iPad, you would have a hard time hacking it to read from a specialized sensor such as a temperature sensor or add your own custom hardware," he says. "The Beagle tablet is all about innovation."
Related Tags