We've heard a whisper of a new top-end X58 powered motherboard from GIGABYTE. The first sign was when a pre-release version was displayed in the specs list of a 3DMark Vantage run on the Orb that managed to break a world record a short while back.
The name? GA-X58A-UD9! A few tid bits have leaked out in recent weeks indicating GIGABYTE have been working on something pretty special here, but we'd never seen one in the flesh...... until NOW!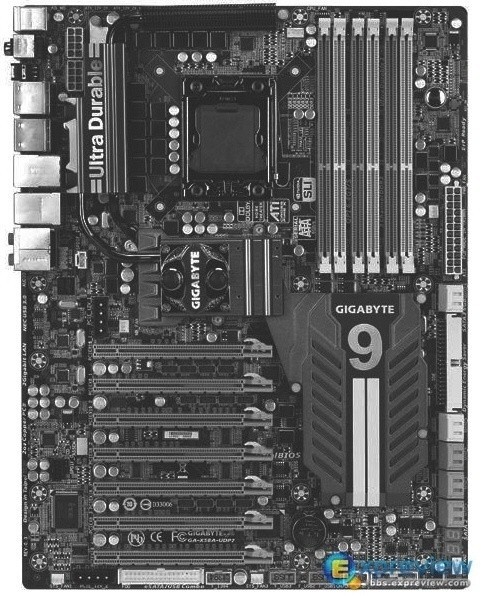 As you can see, the image sourced by the folks at
EXPreview
is delibately provided in black and white-only form, but it's enough to paint a clearer picture on what we have going on with this new de-throning model GIGABYTE has in store.
With overclocking being the main point of focus in the build of the UD9, you can see the board wants two x 8-pin power for those extra watts of power to ensure solid stability / a higher ceiling.
In typical GIGAYTE fashion, the board boasts a 2oz copper PCB and the cooling system looks very serious with added support for watercooling on the Northbridge.
Another eye-catcher is the large array of x16 slots; seven of them in fact. There's also 10 SATA ports on the board, four of which are presumed to be SATA 6Gbps ports. Other features include 7.1 audio, Gigabit Ethernet, USB 3.0 support and GIGABYTE's proprietory DualBIOS and DebuLED features.
This is our first actual sighting of the GA-X58A-UD9 and while it's lacking color, it gives a nice taste of what GIGABYTE have on the cards; we already know from early pre-production runs that it's going to be a killer performer.
No pricing or availability to share, yet.