Intel to launch 13 Westmere 32nm Xeon processors in March 2010
six hexa-cores and seven quad-cores.
Published Tue, Dec 15 2009 9:14 PM CST
|
Updated Tue, Nov 3 2020 12:35 PM CST
Intel plans to release no less than 13 Westmere-based 32nm processors under its Xeon E5000, L5000, X5000, and W3600 families towards the end of Q1 next year.
Six of these will be hexa-core Xeon CPUs which include the X5680 (3.33GHz / 130W TDP), X5670 (2.93GHz / 95W TDP), X5660 (2.80GHz / 95W TDP), X5650 (2.66GHz / 95W TDP), L5640 (2.26GHz / 60W TDP) and single-socket W3680 (3.33GHz / 130W TDP).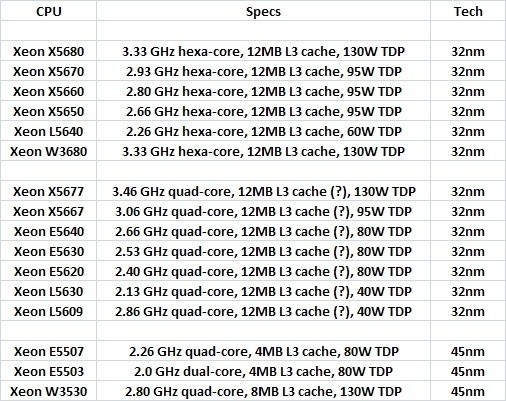 In the quad-core 32nm realm we have the Xeon X5677 (3.46 GHz, 130W), X5647 (3.06 GHz, 95W), E5640 (2.66 GHz, 80W), X5630 (2.53 GHz, 80W), X5620 (2.40 GHz, 80W), and L5630 (2.13 GHz, 40W), and L5609 (1.86 GHz, 40W). All of these processors have HyperThreading technology and Turbo Boost except for the L5609. The amount of cache is not confirmed on these quad-core variants as yet.
These chips are slated for launch on March 16 2010.
Related Tags