Google prepares for Chrome OS update with Web Event - live blogging
We cover it live.
Published Nov 19, 2009 11:57 AM CST
|
Updated Wed, Jul 27 2022 3:40 AM CDT
5 minute read time
At 10:00am Pacfic Time (6 PM GMT) today. Google will announce an update to their Chrome OS in a live webcast. According to the infromation in the invite they will be covering the latest version and what has changed since we last heard from them. Chrome OS has been a highly debated subject ever since the first rumors surfaced. It should be fun to see what Google has planned and if it will indeed be an OS aimed only at the smart and netbook market or if it will be one that will suit a range of systems. Hopefully we will find that out today and also see how Google plans to distribute it.
We will be covering the event in as close to real time as we can get. Keep checking in here for updates as they happen (F5 will be your friend).
LIVE BLOG:
1:04 PM EST - We get to see the opening slides but it looks like Google is running a tad behind.
1:05 PM EST - and we are starting, they are saying there will be no launch today, that is about a year away...
1:06 PM EST - Chrome is just faster, they use Google Voice as an example... not sure about that one though.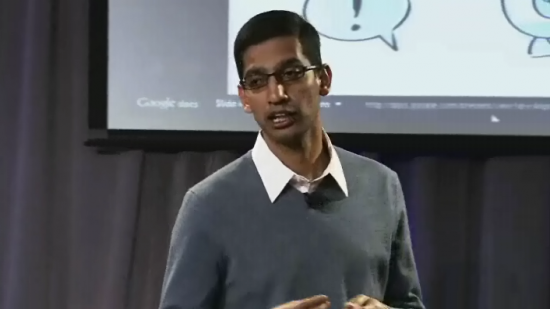 1:08 PM EST - new announcements - Chrome for Mac, Chrome for Linux and Extension for Chrome coming in the next year.
1:09 PM EST - Chrome Extensions will be based on HTML and Java Script.
1:10pm EST - web OS apps should function like Desktop Apps.
1:12pm EST - Want Chrome OS to have the same capabilities as traditional Desktop OSes. Using HTML 5 to do this.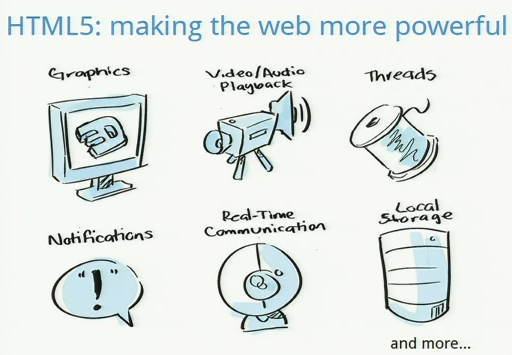 1:13pm EST - Making Web Apps work offline, web apps will be able to work as well as any desktop apps.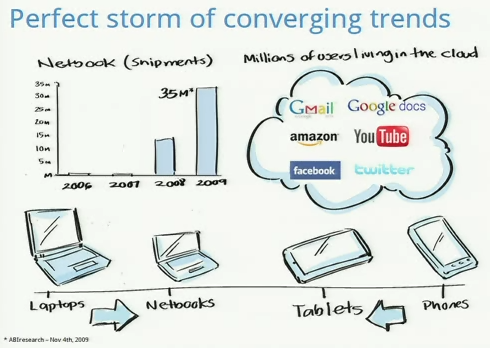 1:14PM EST - Claims that the trend shows the future is web applications, that every exciting app written recently is a web app (maybe he has not played Modern Warfare 2).
1:14pm EST - Chrome is focused on three things - Speed, Security and Simplicity.
1:16pm EST - Chrome OS is going to be a terminal like OS, everything on it will be a web app.
1:17pm EST - Data user with Chrome OS will be in the cloud. no word on if the issues with the "cloud" have been resolved. Admits that security is a hard problem, says that nothing can be completely secure. Runs completely in the browser security model.
1:19pm EST - System boot time is impressive! About 7 seconds from power on to desktop is about 10-12 seconds.
1:20PM EST - About a year ahead of schedule, demo is not final UI.
1:21PM EST - Says they had to "stop checking in code" to get the demo ready.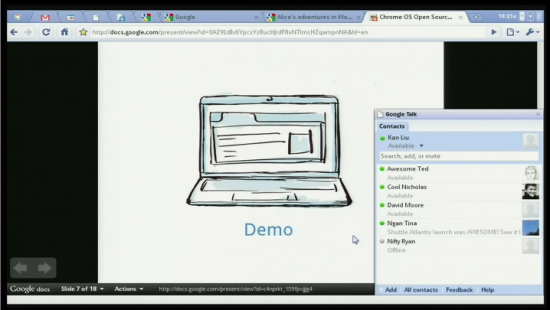 1:21PM EST - UI looks like the Chrome Browser right now, complete with tabs.
1:22PM EST - App menu..... hmmm, sounds like the start menu to me.
1:22PM EST - WOW, new names for old things - panels look a lot like windows just using the "always on top" tag.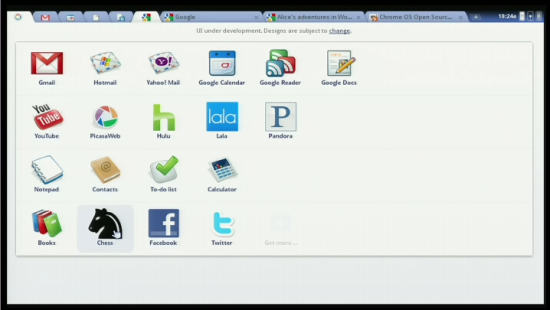 1:23PM EST - All data in Chrome OS is in the cloud as a new file is created it is there already in your data store.
1:24pm EST - Expanding on the virtues of netbooks, same stuff we have heard before, though. Chess looks like a "lite" version of Chess in Vista and 7.
1:25pm EST - Chrome OS cna double as an e-book reader and acess Google Books. New "Windows" seem like Linux Desktops, but with a much slicker way to acess them.
1:26pm EST - Flash works on Chrome OS already! Shows YouTube working without any problems.
1:28pm EST - All web applications work in Chrome. And shows Windows Live working.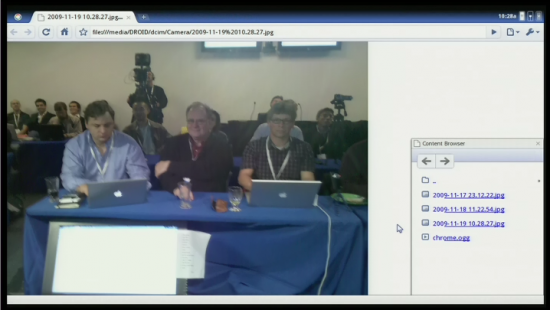 1:29pm EST - Connected a phone and showed how to browse images and video easily in Chrome OS - nice!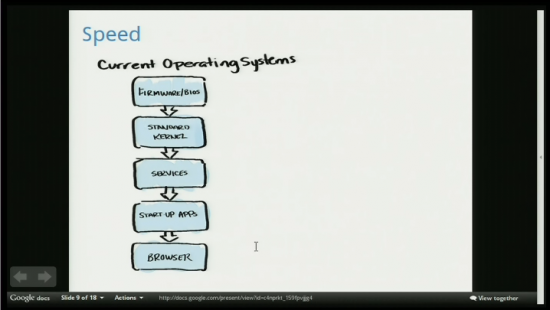 1:31pm EST - New guy on, missed name. Showing the difference between standard OS and Chrome.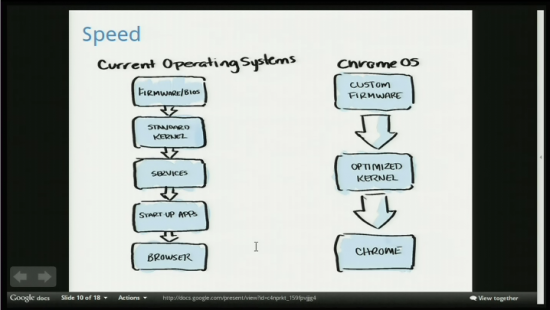 1:32pm EST - Chrome looks like older RISC systems where the hardware contains some of the code needed to run the OS. New sryle of operating the OS. (See above).
1:34pm EST - Verify Boot looks like a great anti-piracy feature. I wonder how long that will take to crack? Updates use certificates to make sure the kernel is correct each time it is loaded or updated.
1:35pm EST - If there is an issue the system will reboot and reload a clean image (malware detection... system repairs itself).
1:35pm EST - System can be healed automatically.
1:36pm EST - MS found out about that problem the hard way. Primary attack vector for malware? is applications? Not sure about that one as most malware is vectored at browser plugins and the browser code (java and HTML).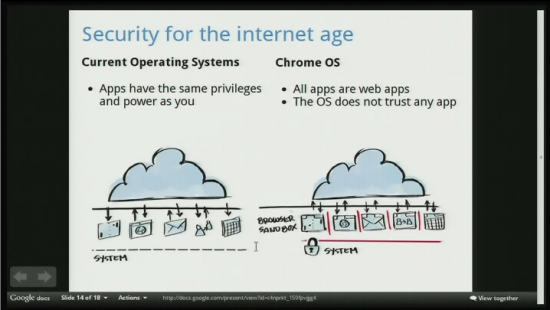 1:37pm EST - Claiming that web apps cannot change settings, not a very true statement.
1:38pm EST - Secuity sandbox is a great feature, no changes are applied locally - all root file systems are read only. Web Apps are run in seperate security spaces (memory space segregated) and user data and identity encrypted.
1:40pm EST - Odd mention of local user data being encrypted. Especially after saying all user data stored on the cloud. UPDATE: Local user data is a cache location used to sync data to the cloud. Now it makes sense.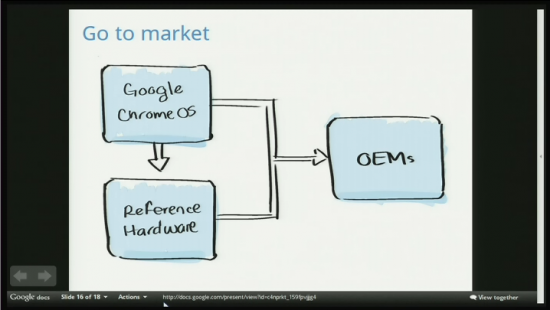 1:42pm EST - Trying to change the whole computer model. SSD only. High level overview of how Chrome OS will go to market. Certifying hardware at the vendor level... sounds very "mac" like.
1:44pm EST - Working for larger netbooks, they want more comfort for users.
1:45pm EST - Chrome OS is open as of today. Google will make the same code they are using available to external developers.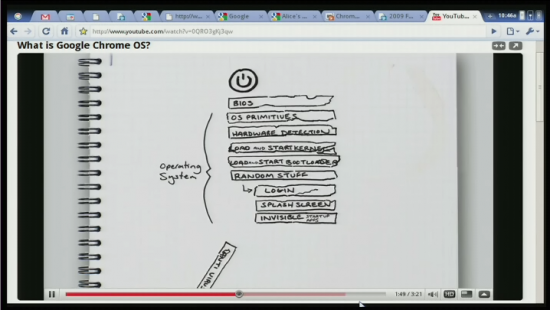 1:46pm EST - Queue the video. Sounds like an Apple ad. What is this?!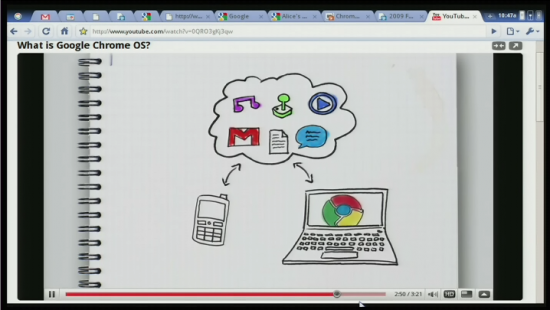 1:48pm EST - "A totally rethought out computer." Stop worrying, just use it.
1:48pm EST - Hmm... my system takes about 20 seconds to boot up, not 45 seconds. WOW, that last bit was VERY Apple like. Ah, and the missleading information comes out. We were told that there is a local cache of user data, that syncs between the cloud and the local device. So despite what the "ad" says there is data stored on the comptuer.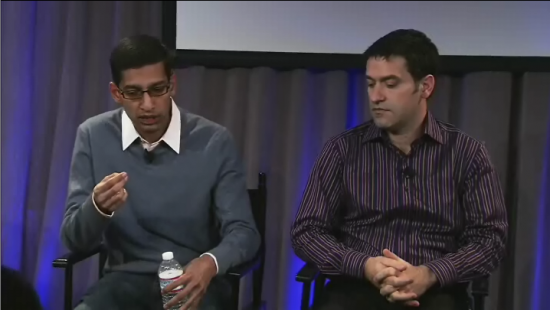 1:50pm EST - Q&A begins.
1:54pm EST - Q: Will you have an App store? A: Lot more details later in this area, concepts how to discover apps... Didn't answer fully. Maybe?
1:56pm EST - Working closely with hardware partners for high-quality hardware components complete with open source drivers to make sure they are compatible and will run Chrome OS properly.
1:56pm EST - Everything that works in Chrome works in Chrome OS including codecs, including adding hardware acceleration (CUDA for Chrome?)
2:02pm EST - Q: What is the size of the OS? A: Code size will change all the time, but working very hard to have great code stack.
2:03pm EST - Yep, they are focused on nettops and smart devices - not laptops and desktops.
2:04pm EST - Focused on 802.11n for connectivity.
2:07pm EST - Amazing... no native apps. All apps will be web apps (Apple tried that and failed).
2:09pm EST - Jailbroken Chrome OS? (hahaha!)
2:10pm EST - The important thing to remember, web based OSes are insecure at their root, because they have to phone home they open up the whole system to risk.
2:10pm EST - Interesting that Google chose to show an advertisement in the middle of a web briefing. Sort of like a badly done Apple event (with no Steve Jobs). The ad comes off with a very "Apple" like style, even the voice sounds like the guy from the "there's an app for that" commercials.
The ad made Chrome OS sound like it never needs to be updated (yet they told us that Chrome automatically updates) and says that people only use computers to get on the web. My guess is that they have not played a 3D Game in the last few years.
2:14pm EST - Currently no plan to implement extra ads into the OS. Apps will work as they do currently.
2:17pm EST - Next up is the claim that nothing is stored on the local computer; yet they say that user data is secured by encryption locally.
I wonder when they will bring out the PC guy?
Hi, I'm a PC
Hi, I'm a PC Runnning Chrome OS
2:18pm EST - Chrome looks a lot like the first version of the iPhone OS without the native apps. Steve jobs tried to keep apps "web" only, but that failed. To keep up with the underground third party app developers they had to open up to native apps. I wonder how long it will be until Chrome OS has to go that route.
Related Tags