Microsoft lets Zune HD Apps fall through the cracks
Do they really want to compete with Apple?
Published Sat, Oct 24 2009 8:36 AM CDT
|
Updated Tue, Nov 3 2020 12:36 PM CST
So the Zune HD launched over a month ago along with a new and improved version of the Zune Desktop and Marketplace. Just before the launch we heard the gang from Redmond telling us how they would stock their version of the App Store with incredible applications and games for the Tegra inside the Zune HD.
However one month later and we have not see even a single new game or App in the Zune Marketplace. This is highly disappointing and a sure way for Microsoft to lose the fight with Apple and their iPod Touch and iPhone. When we reviewed the Zune HD here we found the hardware and performance to be outstanding and more than a match for the Apple offerings (in many cases much better). The problem as we saw it then (and now) is that MS does a terrible job at follow on and marketing.
This is a perfect example; their decision (surely a marketing one) to keep their Marketplace closed has probably driven many developers away from it. Yet MS has not done anything to add to this area either. We do not see any of the graphically impressive 3D games we were promised before launch. We do not see anything.
MS needs to pull their collective heads out and get to work here or they will surely lose the PMP fight and very quickly. This is despite the far superior hardware they have with the Zune HD.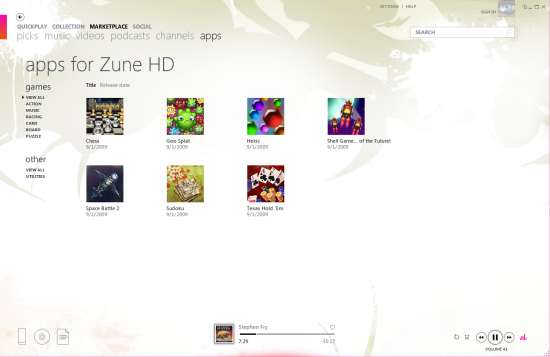 At Launch
[img]55[img]
This Morning
Related Tags