Chrome OS pictures leaked?
But are they real? for July 9, 2009.
Published Thu, Jul 9 2009 9:24 AM CDT
|
Updated Tue, Nov 3 2020 12:36 PM CST
A blogger has managed to snap a shot of Google's new Chrome OS. Now these shots are nothing special and really only show a task bar, and a wall paper saying that it is a Private Developer's Beta.
Pretty simple really. But is it? According to the Blog the shots were taken at an Acer Preview of the OS that was given by Acer and Google together.
The Blogger does say that the OS is very fast and seemed to be rough due to its early beta stage. There was only one app installed and that was Google Talk.
I am not sure if these images are real, they very well could be the next viral "shaky cam" images. But the description of the OS is interesting.
The blogger describes a Start Menu that can access applications, files and also has the basic commands (reboot, shutdown, etc). The task bar auto hides, contains the usual clock and can have the search bar added to it.
It also seems that you can run in two different modes, and explorer mode (which is much like Windows Explorer) and a Browser Mode where you pretty much do everything through Chrome.
This new OS is supposed to be out on Netbooks in the second half of 2010. This will make a round five major contenders for netbook OS market. Windows, Moblin, Android, Linux (Ubuntu and a few others), and now Chrome.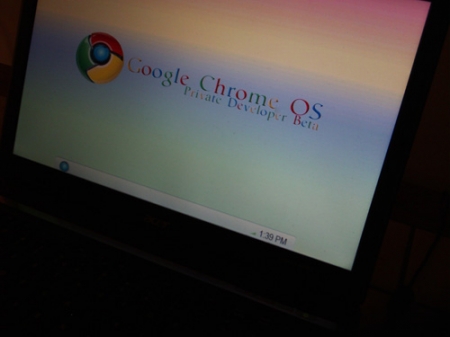 More information
here
Related Tags