Is Google Scared of Bing?
Urgent Updates at Google.
Published Mon, Jun 15 2009 9:17 AM CDT
|
Updated Tue, Nov 3 2020 12:36 PM CST
Microsoft has been trying very hard to upgrade its outdated search engine. They tried MS search, Live, and now might have finally done something right. They launched Bing (tell me you do not hear Janice from Friends every time you say that ;)).
But according to Microsoft Bing is not just a search engine; it is decision engine. This little difference, even if semantic, might have Google a little bit afraid.
According to a New York Post article Google is scared of Bing and working hard to put in some "urgent updates" to compete with Bing.
One thing that might be a factor is that Google has been criticized lately over its intrusive nature. Many are not happy with the way Google tracks a users search, browsing, and even desktop habits to further their advertisement effort. This alone could lead many to leave Google is another company can produce a viable product; Bing might just be that product.
Read more
here
.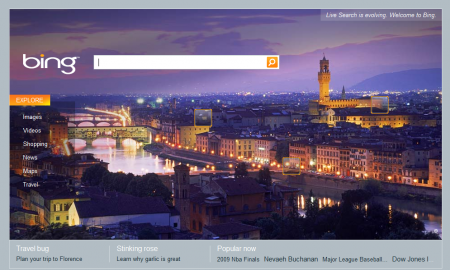 In a story headlined "Fear grips Google," the New York Post reports that the launch of Microsoft's Bing search engine has so upset Google co-founder Sergey Brin that he has top engineers working on "urgent upgrades" to Google's service. Brin is said to be leading a team to determine how Microsoft's search algorithm differs from the closely guarded one Google employs. The tabloid also notes that it's rare for Google's co-founders to have such a hands-on involvement in the company's daily operations.

"New search engines have come and gone in the past 10 years, but Bing seems to be of particular interest to Sergey," an anonymous source described as an "insider" told the newspaper.
Related Tags