T-RAM and GlobalFoundries enter joint agreement
Cache for everyone.
Published
0 minutes & 52 seconds read time
GlobalFoundreis and T-RAM Semiconductor have entered into an agreement. The Agreement is a joint development agreement that centers around T-RAM's Thyristor-RAM embedded memory.
GlobalFoundries is excited (as is to be expected) about this as Gregg Bartlett, Senior Vice President of Technology and R&D at GLOBALFOUNDRIES stated "We are pleased to be jointly developing T-RAM memory for 32nm and 22nm technologies. T-RAM's embedded memory technology shows a great deal of potential for use in low-power, high-performance dense cache applications for advanced technology nodes."
The question now is what and whose advanced technology nodes will this new memory go into. There are still rumors that TSMC cannot get the 40nm process working right. So this could mean more business for GF if the persistent rumors are true. The Deal with T-RAM only makes things more attractive.
Read more
here
.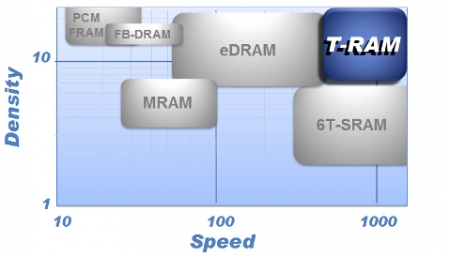 Sam Nakib, President and CEO of T-RAM, added, "We are excited about working with GLOBALFOUNDRIES on the next generation embedded memory technology. T-RAM has successfully completed extensive development of the Thyristor-RAM technology and has delivered a fully manufacturable and robust memory solution with proven yield, reliability, and low-cost of integration in earlier technology nodes. We believe that GLOBALFOUNDRIES and their customers' products provide a great opportunity to further develop and show-case T-RAM's significant performance and economic advantages.
Related Tags