Well Acer is the first to get their ION feet wet and actually provide a sample for the press to drool over.
Called the AspireRevo this new Nettop is combining a Dual Core Atom (230) with the ION MCP containing the GeFroce 9400. According to Acer the AspireRevo can shovel out 1080p video quite nicely. Combined with a 7.1 Audio Codec the new nettop could double as a fully functional HTPC once you add a USB or e-SATA BluRay Drive and a USB HD TV tuner.
But you may want to wait until Windows 7 Hits as other than the Multi-Core Atom and the 9400 the Revo looks to be a pretty standard nettop offering.
Read more
here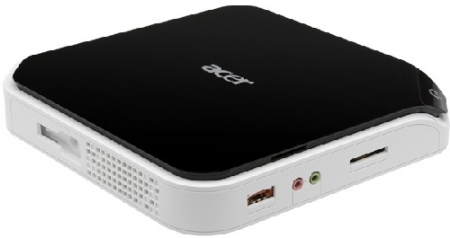 Acer states the AspireRevo is capable of delivering a good solid 1080p. Most devices such as the Eee Box and the MSI Wind will struggle to even think about movie playback at that level. The INQ actually saw this in action,and it actually performed rather well and decoded too at a seriously high bitrate.

Other than that the AspireRevo is a common old nettop running from the usual array of specs found in others. It's around the third of a desktop's size, the power consumption is a third of the usual computers' requirements too - everything really expected, with no surprises.

All the ports are present and correct, which is something we cannot say about some competitors. Onboard are the likes of VGA¸HDMI supporting 7.1 audio, multiple USB ports, audio and even eSATA's been catered for