Warner Bros Offers HD DVD Trade-in Program
Light shines for those suckered into HD DVD.
Published Wed, Apr 22 2009 7:11 PM CDT
|
Updated Tue, Nov 3 2020 12:37 PM CST
Those that chose to get involved in the high definition format war of yesteryear knew that they were taking a gamble. In the end it was inevitible that either one format would win redering the other obsolete, exactly like the Betamax/VHS war of the late 1970's and early 1980's
For those that took the gamble with HD DVD and lost, it seems that Warner Bros is giving you just a
little bit of hope
. No, HD DVD isn't coming back out for another fight, but Warner has announced a new program to trade in your HD DVD's for a Blu-ray copy, for a small fee of course.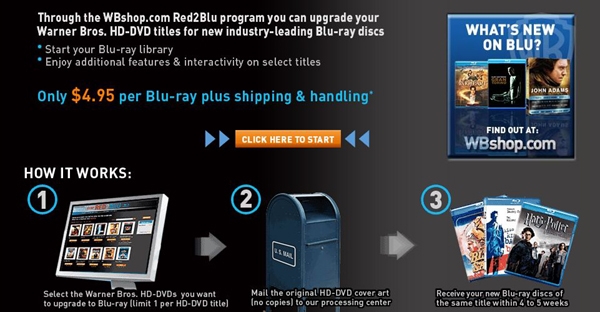 With
Red2Blu
, Warner offers you the chance to trade in virtually any of your HD DVD's for the same version in Blu-ray. They do have a limit of 25 that you can swap out, but it should cover most people wanting to upgrade.
Each title you want to exchange will cost $4.95 plus some shipping that is combined for your total order. Once your order is completed Warner will even give you a prepaid shipping label. All you have to do is send back the original cover art on the outside of the case; you get to keep the case and the HD DVD itself.
Warner says that it will take 4-5 weeks for you to get your new Blu-ray videos. The only downside is that the program is only available to those in the United States.
Related Tags