D-Link is kicking out its answer to the growing need to stream HD content around the house. But instead of looking to the power lines they are attacking the coax cabling that is present in many modern homes and apartments.
Dubbed the DXN-221 HD MediaBridge Coax Network Starter Kit (boy that is a mouthful) this new system allows for the use of existing coax cabling to transfer HD and other network content at high speed (100Mbps).
The DXN-221 uses encryption to protect your data from external intrusion with a user changeable password. The pricing on the DXN-221 is more than your average powerline kit at $239.99
Read more
here
.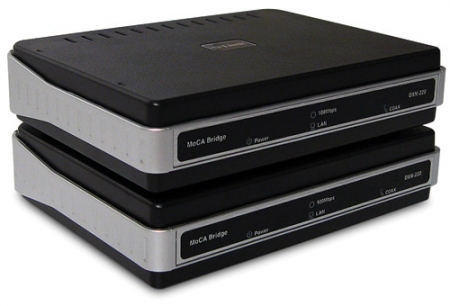 NETWORK SECURITY
The HD MediaBridge® Coax Network Starter Kit provides data encryption with password protection to establish a secure connection to help keep your data safe from unauthorized access.

WHAT THIS PRODUCT DOES
Easily create a high-speed network connection through your home's existing coaxial (cable) wiring with the D-Link HD MediaBridge® Coax Network Starter Kit. The adapters enable you to connect your PC or Ethernet-ready gaming devices such as Xbox 360® and PlayStaition® 3 to the Internet. Plus, the HD MediaBridge Coax kit provides a faster and more reliable delivery of HD quality entertainment for intense online gaming.