GIGABYTE has announce that they have extened SLI support to all of their X58 lineup.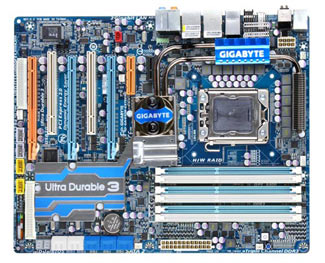 The new BIOS update can be found on
GIGABYTE's website.
GIGABYTE X58 Series motherboards featuring NVIDIA SLI support include:
- GA-EX58-EXTREME
- GA-EX58-UD5
- GA-EX58-UD4P
- GA-EX58-UD4
- GA-EX58-UD3R
GIGABYTE's full press release is available
here.
City of Industry, Calif., April 02, 2009 - GIGABYTE Technology CO., LTD., a leading manufacturer of motherboards and graphics cards, is pleased to announce their entire range of Intel X58 chipset motherboards now officially support NVIDIA SLI technology, allowing users to take full advantage of blazing-fast NVIDIA multi-GPU performance.

With a simple BIOS upgrade from the GIGABYTE website, users can enable NVIDIA SLI support on their current motherboards for ultra smooth 3D rendering, blazing-fast frame rates and enhanced visual quality possible with a multiple graphics card solution. Whether playing current and future graphics-intensive games at max settings, or enabling multi-monitor support for enhanced productivity, GIGABYTE gives users the flexibility to design their system according to their specific needs.