Tide is turning against Apple
At Least Steve Ballmer thinks so.
Published Fri, Mar 20 2009 12:50 PM CDT
|
Updated Tue, Nov 3 2020 12:37 PM CST
Microsoft Head Honcho Steve Ballmer is declaring that the tide is turning on Apple.
In a recent speech at conference in New York, Ballmer stated "Apple gained about one point, but now I think the tide has really turned back the other direction,". This seemed to indicate that he felt Apple's recent market acceptance was coming to an end.
Ballmer went on to say "The economy is helpful. Paying an extra $500 for a computer in this environment -- same piece of hardware -- paying $500 more to get a logo on it? I think that's a more challenging proposition for the average person than it used to be."
There has long been the feeling that after Apple switched to Intel CPUs there was little difference between PC and Mac hardware. However, it was interesting to see Ballmer skip over the OS difference. I would have expected him to talk up Vista over OSX at least.
Read more
here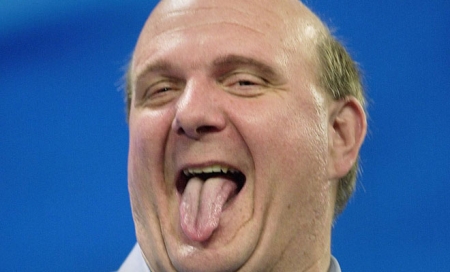 Of course, Windows PC sales have been slumping, as well, in the face of the difficult economy.

Ballmer was speaking at The McGraw-Hill Companies' 2009 Media Summit. The interviewer, BusinessWeek editor-in-chief Stephen Adler, followed up by asking if Ballmer owned any Apple products himself. A secret iPod, maybe?

"No, none. I don't, my sons don't, my wife doesn't," Ballmer responded, as the crowd laughed. "You're talking to a guy, though, whose dad worked for Ford, and once Ford sold Land Rover and Jaguar, we're selling the cars to get Fords, so you may have a weird outlier in me."
Related Tags