nVidia, claims nVision 09 not canceled
Just delayed for now.
Published Tue, Mar 17 2009 10:29 AM CDT
|
Updated Tue, Nov 3 2020 12:37 PM CST
There have been some reports that nVidia has cancelled nVision 09. Well reports of nVision's demise may have been exaggerated.
At least that is what nVidia is claiming. Derek Perez from the Green Team contacted Arstechnia and explained that it hadn't actually been canceled but has been delayed.
Perez also said that it might be replaced with something smaller due to the economic crunch that was preventing people from traveling as much as they used to.
Read more
here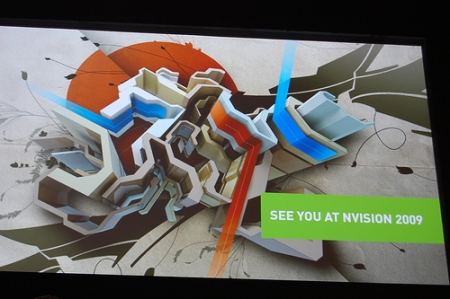 "Since the economy is affecting everyone's ability to travel, this year we plan to focus our attention on the core of the GPU development community with a more concentrated event," NVIDIA's Derek Perez told Ars when we asked him about this morning's DigiTimes report that NVISION '09 has been canceled. "Details will be announced soon on this developer event, as well as the next NVISION."

Yes, the economy is indeed affecting travel: I've recently heard secondhand stories of slashed travel budgets at a number of tech companies, and the sparse media attendance at some recent events that I've been to indicates that reporters aren't getting out much either. But things must be grim indeed for NVIDIA to do this to NVISION. (Whether this is a "delay" or a "cancelation" depends on when the next NVISION happens-if it's pushed back to 2010, then it was a "cancellation.")
Related Tags