Shuffle Headphones have Authentication chip
Third Party Headphones wont work.
Published Mon, Mar 16 2009 12:59 PM CDT
|
Updated Tue, Nov 3 2020 12:37 PM CST
Well the rumors that the new iPod Shuffle has an authentication chip to prevent the use of third party headphones might just be true.
The gang over at Boing Boing Gadgets dissected the headphones and found an odd chip. But it was V-Moda that confirmed the chip was in fact an authentication chip.
This means that Apple is now trying to find ways to lock out even using their party earphones on their devices. But I imagine that they will work with anyone willing to pay enough.
Read more
here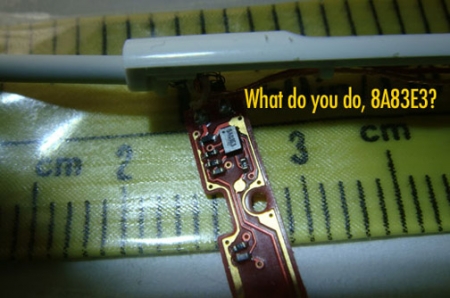 V-Moda, one of the manufacturers who announced shuffle-compatible headphones last week, just confirmed to us that yes, an authentication chip IS "required to enable to volume control functionality with the new shuffle (as well as the latest gen of iPod and MacBooks)." The difference here is that iPods and MacBooks worked with headphones that didn't have the authentication chip. The shuffle does not.

V-Moda also says that they've collaborated with Apple for the past few months developing the technology. It seems safe to conclude two things. One, manufacturers who want their headphones to work with the shuffle need to work with Apple in order to get access to the tech inside the authentication chip. Two, only people who Apple "like" are going to get this tech and make compatible headphones-but it's likely that Apple likes almost anybody with the money to pay for licensing.
Picture courtesy of
Boing Boing Gadgets
Related Tags